Dzeko's reversal of form has Roma among favourites for Europa League
When Edin Dzeko's daughter Una woke up on Friday morning, there was a gift waiting from her papa. Dzeko picked it up for her on a work trip to Spain. It was an adidas capitano, the official match ball of the Europa League, and he wanted her to have it.
"I'm taking it home to Una," Dzeko told reporters at the Estadio Ceramica, which he all but smashed to pieces. Not for the first time this season, Dzeko scored a hat trick in the Europa League. The surprise was that it came here.
Villarreal have the best defence in Spain. Better than Real Madrid's. Better than Barcelona's. Better than Atletico Madrid's. They had kept four clean sheets in their past five games. But on Thursday, Dzeko helped inflict on Villarreal their worst defeat in Europe since a 5-1 collapse to Porto six years ago. Local paper El Mediterraneo called it "a night to forget". For Villarreal, definitely. But not for Dzeko.
The Bosnia international has now scored in seven consecutive games. He is the leading scorer in both the Europa League and Serie A, and Thursday's 20-minute hat trick took him up to 28 goals for the season in all competitions.
"For me, it's not a surprise," Dzeko told Sky Italia. "I've always been like this." Always in your second season, you mean, Edin. Because after slow starts to life at Wolfsburg and Manchester City, it was then, upon adjusting to new teammates and new surroundings, he transformed into a goal machine. The pattern has repeated itself at Roma. And yet, the turnaround is no less astonishing.
A year ago, Dzeko couldn't get into the team. He was considered a flop, a lost cause. In fairness, no one played well for Roma in the first half of last season, particularly as autumn turned to winter. Things had gone stale under Rudi Garcia.

Villarreal
AS Roma
Game Details
"There was a frustration when a number of us would look at practices," owner Jim Pallotta revealed. Sacking Garcia, he added, "was an easier decision than most might think" and should, in hindsight, have been taken earlier -- perhaps at the end of the previous season.
High on the list of priorities for Garcia's replacement Luciano Spalletti was getting Dzeko scoring again. He had gone almost 12 hours without a goal in Serie A over the winter. Spalletti showed faith in him right away. The incoming manager said if the club had asked him to give them the profile of the perfect striker and offered to buy him then and there, he would have named Dzeko. Luckily, he was already on Roma's books. But regenerating Dzeko was not as simple as flicking a switch. A sensitive soul, his confidence seemed as shot to pieces as Villarreal's defence. It must have been hard knowing the fans and the media had already made up their minds about him.
Complicating matters further was the Francesco Totti situation. The future of Roma's captain was still up in the air at the time and whenever Dzeko started instead of him, the Bosnian was seen to be blocking Totti's way. As soon as Dzeko missed his first chance, the crowd would get on his back. Symbolic of that was the Palermo game. The one-year anniversary of it is this weekend.
Totti had been sent home by Spalletti after giving an interview to RAI voicing dissatisfaction at his treatment. The atmosphere was tense. Barely half an hour into the game, Dzeko found himself in front of an open goal. All he had to do was pass the ball into the net. Instead, he hit a shot horribly wide of the post.
It was a contender for miss of the season and threatened to define Dzeko's time at Roma. Isn't it strange how people remember that but forget he scored twice and laid on two assists in the same game, a 5-0 win? Even so, it's true that Dzeko soon lost his place and clearly it was going to take time to rebuild his confidence, time Spalletti didn't have.
If Roma were to qualify for the Champions League, he had to start winning right away, and the winning formula he found was a familiar one. Famous in Italy for the strikerless formation he played in his first spell at the club, Roma found consistency without a centre-forward. They still finished top scorers and claimed the final Champions League spot in Serie A. Dzeko, however, started seven of the last 10 league games on the bench and people were seriously beginning to wonder whether he would still be in Rome this season.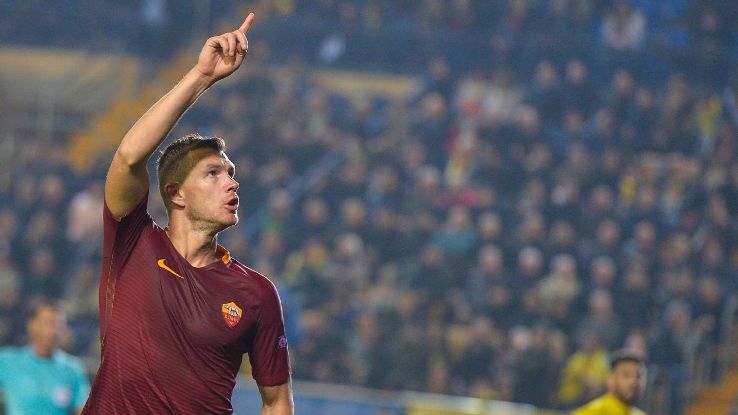 What changed, then? How have we gone from Spalletti saying last March that Dzeko would have to beg him "to have his shirt back" to the former Man City striker playing more minutes this season than any other outfield player at Roma? Well, the credit for that should be split between the player and manager.
Spalletti has taught Dzeko's teammates how best to serve him, and the relationship the forward has struck up with Mohamed Salah is the most lethal in the league. Since returning from the African Nations Cup, for instance, Salah has already laid on three goals for him in two games. Naturally Spalletti has also recommended Dzeko make specific movements and repeatedly demanded that he develop a mean streak. Considered too nice, a soft touch even, Spalletti wants to see Dzeko's nasty side.
Even now Spalletti is still on Dzeko's case. "He has to take the fight to [Gonzalo] Higuain for the Capocannoniere," Spalletti said in Thursday's news conference. "He can't be satisfied. When he gets to the end of a game and he's scored two goals but also missed two he has got to be unhappy with himself for the goals he didn't score."
Roma now merit consideration as one of the favourites to win the Europa League. Rather than focus on his own performance, Dzeko highlighted how the rest of the team didn't give Villarreal a sniff on Thursday. Roma have attained balance.
It doesn't steal as many headlines as Dzeko's goals, Salah's dribbles or Radja Nainggolan's tackles, but the defence has kept more clean sheets than any team in Europe's top five leagues apart from Chelsea. Wojciech Szczesny has been the best keeper in Serie A this season. A laughing stock at Tottenham, Federico Fazio has been the signing of Roma's season. Like Dzeko, these players have improved a lot under Spalletti. And the same goes for Emerson Palmieri.
The papers in Italy see the Europa League this season coming down to Roma and Manchester United. "Ibra or no Ibra. This or that team," Spalletti said. Roma must concentrate on themselves. But with Dzeko and the rest of the team in this kind of form, they can go far and seriously think about returning to the final for the first time since 1991.
James covers the Italian Serie A and European football for ESPN FC Follow him on Twitter @JamesHorncastle.