Liverpool an acid test of Arsenal credentials and Wenger confidence
It has taken just two games of the new season, but already it feels like Arsenal are in fire-fighting mode.
The 1-0 defeat at Stoke last weekend opened up old wounds the FA Cup win had barely covered over, and with misgivings about the club's transfer activity this summer, it means the pressure is well and truly on as they prepare for a trip to Liverpool on Sunday.
Arsene Wenger will be boosted by two of the team's most important players. Laurent Koscielny is available again having served the three game suspension following his sending off at Everton at the end of last season, while Alexis Sanchez is ready to play after a late return from his summer exertions having recovered from an abdominal strain.
The temptation to return the Chilean to the starting lineup must be intense, particularly as Arsenal were so wasteful at Stoke. Danny Welbeck possesses many fantastic qualities -- his work rate, ability on the ball and physical prowess make him a nightmare for defenders to play against but goalkeepers tend to sleep more easily than they should due to his often wayward finishing.
With Sanchez comes both goal scoring efficiency and creativity, and if Wenger can deploy a front three of Sanchez, Mesut Ozil and record signing Alexandre Lacazette, there's plenty that can cause the Liverpool defence problems. With Welbeck, Olivier Giroud, Theo Walcott and Alex Iwobi to call from the bench if required, there's no doubt Arsenal have the firepower to score goals at Anfield.
If Wenger views the Liverpool defence as the opposition's weak point, there's little doubt that Jurgen Klopp will be thinking likewise about a porous Gunners backline that has conceded four goals in the opening two games. What's crucial for Arsenal going into this one is finding the right defensive balance, which means Wenger must play players in their best positions.
His deployment of Hector Bellerin as a left-sided wing-back against Stoke felt like a move to accommodate and placate Alex Oxlade-Chamberlain, who has yet to sign a new contract with the club. Rather than choose between the two, he fudged the issue and while Arsenal dominated the game in general, the lack of stability was evident in the goal they conceded early in the second half.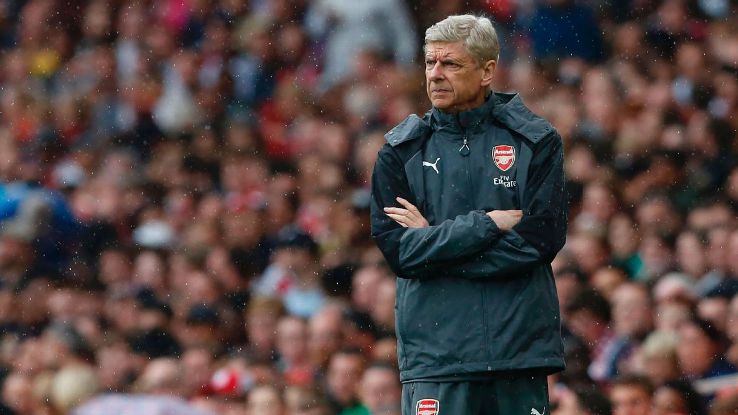 With Koscielny back, he should be able to field a back three with the right players in there, meaning he can finally deploy Sead Kolasinac on the left. The Bosnian was bought specifically to play in that position, with Wenger lauding his attacking instincts and ability to produce in the final third.
Then it comes down to a straight choice between Bellerin and Oxlade-Chamberlain on the right. Should he play the naturally defensive Bellerin, who committed himself to a six-year contract just last year, or the defensively suspect England international who has turned down more than one new contract offer? It seems obvious, particularly as Arsenal will have to be as strong as possible at the back against a potent Liverpool strikeforce.
The other issue he has to address is the composition of the midfield. It's clear he views Granit Xhaka and Aaron Ramsey as the first choice pairing, but against a team like Liverpool -- who are at their strongest going forward -- the two need to ensure they play closer together than they did against Stoke. If they leave the same gaps at Anfield as they did at the Bet 365 Stadium then they'll put themselves well and truly on the back foot.
Xhaka has to cut out the carelessness in possession that has cost Arsenal two goals already this season, and while Ramsey's real strength is the timing of his runs and the way he arrives in the box, he needs to have more positional discipline. At the very least Wenger needs to instruct him in that regard as the Welsh international's forays forward are usually part of his remit and the manager's tactical approach.
Going into an international break, Arsenal really need to get some kind of result on Sunday. It's got the potential to be a classic, but with two weeks before the next fixture, they have to avoid two weeks of naval-gazing and introspection that a defeat would bring.
Arsene Wenger has declared himself pleased with the summer transfer business and the strength of his squad. Sunday will provide a real test of both, after which we can make a better assessment of the Gunners' potential this season.
Andrew Mangan is one of ESPN FC's Arsenal bloggers. You can follow him on Twitter: @arseblog.