Time ticking at Arsenal as Wenger ponders virtues of selling Sanchez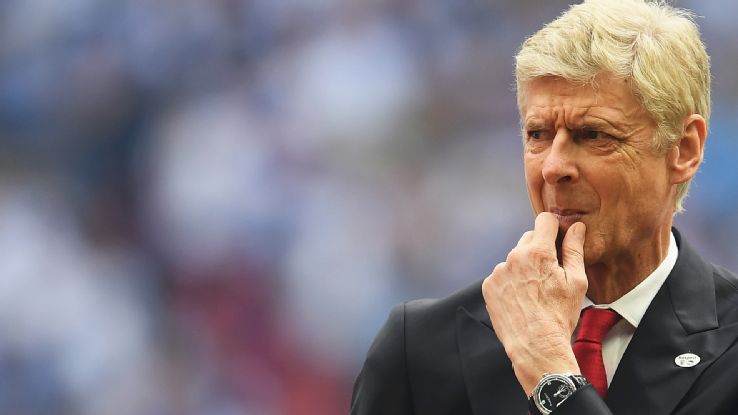 Arsenal began this summer enshrouded in uncertainty. The future of Arsene Wenger may now be resolved but there remain huge question marks over the fate of several key players.
Mesut Ozil, Alex Oxlade-Chamberlain and Theo Walcott have all been linked with moves away from the club. However, there is no case more critical than that of Alexis Sanchez. The sooner the Gunners can settle the Chilean's future, the sooner they can set about their transfer business in earnest.
Arsenal are one of the few clubs to have already made a signing this summer. Bosnian Sead Kolasinac has arrived on a free transfer from Schalke, and seems primed to inherit the left-wing-back role in Arsenal's new 3-4-2-1 system. However, it's what happens with Sanchez that will determine how Wenger allocates the rest of his resources.
The situation is complex. Arsenal's top scorer has just 12 months remaining on his current deal, and seems to be stalling on the possibility of signing a contract extension. When the club do sit down with the player's agent, it will not be an easy negotiation. This is likely to be the last major contract of Sanchez's career, and he'll be conscious his market worth has never been higher. However, Arsenal's demotion to the Europa League is likely to be a greater stumbling block than the financial package -- Sanchez appears to be more driven by silverware than salary.
If contract talks do not prove fruitful, Arsenal effectively have a straight choice: Allow him to run down what remains of his contract and leave on a free, or sell him now.
Their willingness to sell might well be dependent on the identity of the buying club. It would be agonising for Arsenal to lose their Player of the Season to another Premier League team, but if Bayern Munich or Paris Saint-Germain were prepared to offer north of £50 million, Arsenal might be tempted to take the cash in order to reinvest in a suitable replacement.
The problem Wenger faces is that finding someone who can match Sanchez's extraordinary contribution will be very difficult. He was directly involved in 45 goals last season (30 goals, 15 assists). That's a rate of efficiency few players in world football can match.
Wenger might reason that he'd rather keep hold of Sanchez for a further 12 months and swallow a £35 million loss on the man he signed in 2014. After all, we may well be into the final two years of Wenger's reign in north London. If he only has two tilts at the Premier League title remaining, he'd surely want to be able to call upon Sanchez for one?
Forcing Sanchez into seeing out the final year of his deal might be the best option from a football perspective, but Arsenal tend to look after the financial side first. Cesc Fabregas, Samir Nasri and Robin Van Persie were all sold when approaching the end of their contracts, and the Arsenal board might well insist Wenger cashes in on such a valuable asset.
The only reason Arsenal might make an exception is the enormous pressure that manager and board are under from a disgruntled fan base. Winning the FA Cup appears to have placed sticking plaster over the ructions at the club, but selling Sanchez could be more trouble than it's worth -- even at £50 million.
There remains a slim chance he could yet sign a new contract. Arsenal may even be able to agree a compromise with the player that protects their investment, yet still allows the player the possibility of one more big move. Sanchez could sign a new deal with either a formal release clause or a gentlemen's agreement to review the situation at the end of the 2017-18 season. Liverpool did just that with Luis Suarez back in 2013, retaining him for one final year before selling him to Barcelona.
However, if Sanchez definitively decides against putting pen to paper, then Arsenal must act fast. The Gunners must either sell him swiftly so they can set about recruiting a replacement, or make a public declaration that he will be held to the final year of his contract. Arsenal paid a heavy price for failing to provide clarity on Wenger's future until the last possible moment. They must not repeat their mistake with their star player.
James McNicholas is one of ESPN FC's Arsenal bloggers. You can follow him on Twitter @gunnerblog.