Arsene Wenger must help Arsenal find a new attacking groove
When Arsenal went to Old Trafford last weekend, manager Arsene Wenger knew he was taking a side struggling for form. The evidence is in his team selection. A matter of days after the huge game against Barcelona, he rung the changes, dropping three players from what is ostensibly his first-team.
Unfortunately, two of those gambles backfired: Gabriel Paulista, brought in at centre-back, had a disastrous game. He was presumably selected for his speed and agility, but the flaws in his position instincts were badly exposed.
At the other end of the pitch, Theo Walcott endured a nightmare performance. Not only was he anonymous in attack but he was also guilty of giving the ball away in the build-up to Manchester United's first goal. The England forward was unceremoniously hooked after an hour, and his number going up on the board probably served as a reminder to most observers that he was even on the field. Of Wenger's trio of changes, only really Danny Welbeck could be said to have justified his selection.
However, you can't blame Wenger for trying to mix it up, particularly when it comes to playing Walcott and Welbeck. Arsenal have lacked spark in attack for some time. That said, the alchemy on Sunday wasn't right -- having got back into the game at 3-2, they had a real chance to exert some pressure on the United goal. Instead, Arsenal barely managed to carve out a noteworthy opportunity in the remaining 26 minutes.
In stark contrast to their reputation for free-flowing football, the Gunners have become predictable and ponderous going forward. When Swansea visit this week, Wenger has another opportunity to reshuffle his deck in the hope of producing a winning hand.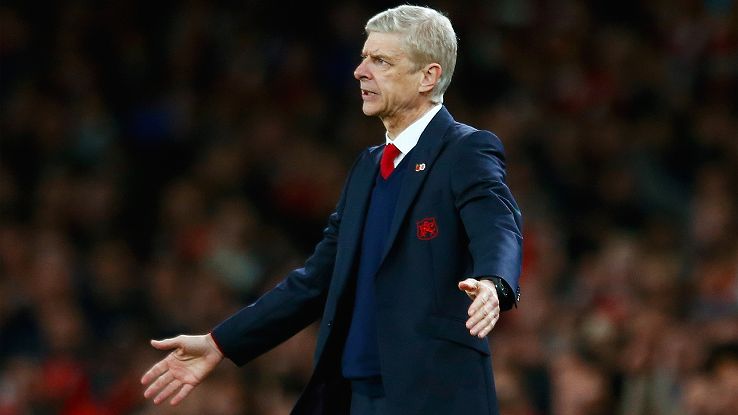 He should start by bringing Olivier Giroud back into the side at the expense of Walcott. Giroud is usually better after a rest, however brief, and helps give structure and technical security to the Arsenal attack. His aerial ability is also an invaluable asset at both ends of the field.
In an ideal world, Wenger would surely like to keep Welbeck in the side. The former United man has been a breath of fresh air since returning to action, and has looked surprisingly sharp for a man who has missed 10 months of action. However, Arsenal must not overload Welbeck with minutes after such a long lay-off. The sensible option may be to keep him on the substitutes' bench -- especially if Wenger has designs on fielding him at White Hart Lane next weekend.
With Alex Oxlade-Chamberlain now confirmed to miss six-to-eight weeks with yet another injury, it reopens the door for Joel Campbell to stake his claim. Campbell was arguably a little unlucky to be dropped after his previous run in the side, and his cocktail of industry and incisive passing could help Arsenal to break down the Swansea defence.
Then there's Alexis Sanchez. Sanchez's form is a microcosm of Arsenal's. Despite his glorious talent, he looks frustrated and impotent. A player whose unpredictability was once his great strength has taken to dribbling down blind alleys again and again. It's a classic "second-season syndrome"; full-backs appear to have him figured out, and Sanchez looks bereft of the confidence required to try something different. Wenger should experiment with switching him out to the right flank, rotating him with Campbell to forcibly inject some variety into the Chilean's game.
Behind the trio of Giroud, Campbell and Sanchez would be the constant creative force of Mesut Ozil. The German must be growing frustrated; if Arsenal's forwards were performing at anything close to their potential, he'd have even more assists in his already absurd tally.
Arsenal's defensive lapses are irritating, but they would be forgiven if the Gunners rediscovered their swashbuckling attacking style. The fans would be significantly more understanding if the team were at least fun to watch. Wenger must make changes for Swansea's visit in the hope of rediscovering Arsenal's attacking threat.
James McNicholas is one of ESPN FC's Arsenal bloggers. You can follow him on Twitter @gunnerblog.