Arsenal likely casting envious glances at Tottenham's young English core
Arsenal may have fallen behind Tottenham in the league, but there is arguably something more troubling than that about Spurs' recent rise. Not only have they leapfrogged the Gunners in the table, they're also besting their neighbours at one of their stated goals: establishing an influential British core.
Back in December 2012, Arsenal made a big fuss of announcing extensions to the contracts of five young British internationals: Kieran Gibbs, Carl Jenkinson, Alex Oxlade-Chamberlain, Aaron Ramsey and Jack Wilshere.
Speaking at the announcement, manager Arsene Wenger said: "Gibbs, Jenkinson, Oxlade-Chamberlain, Ramsey and Wilshere represent a core of the squad and it's an extension for a long period for all of them. I'm a strong believer in stability and I believe when you have a core of British players, it's always easier to keep them together and that's what we'll try to achieve going forward."
AFC Bournemouth

Arsenal
Game Details
Shortly afterwards, they were joined by Theo Walcott in putting pen to paper. At that time, it seemed plausible that all six of those players would go on to become reliable first-team members. However, three years on, only Ramsey has come anywhere close to fulfilling his potential.
Fitness has been a problem for each of those players. Arsenal's British contingent seem curiously susceptible to injury, and that's made it impossible for them to build any kind of momentum. The fragile Gibbs has lost his place to the consistent Spaniard Nacho Monreal, while Jenkinson has struggled on loan at West Ham and is now sidelined for the rest of the season. Oxlade-Chamberlain and Walcott are currently behind the once-unfancied Joel Campbell in the pecking order, while Wilshere awaits his latest comeback attempt.
In Arsenal's last league game against Southampton, Ramsey was the only Brit in the starting XI. By contrast, Tottenham are enjoying great success with a team including the likes of Eric Dier, Kyle Walker, Dele Alli and Harry Kane. Arsenal's British project may be collapsing, but Spurs' is in full swing. It will pain Arsenal fans to admit it, but their loathed rivals are faring far better at establishing a homegrown core.
There is, of course, a question mark over whether having British players really matters. Aside from the quota rules enforced by UEFA and the Premier League, it's unclear if there's any tangible benefit to having local lads on the park. However, whatever the influence on proceedings on the pitch, it does mean something to the fans. Supporters love players they can identify with -- as much as Arsenal fans adore Mesut Ozil, there's something about Ray Parlour's homespun charm that renders him almost as significant.
This weekend, Arsenal travel to Bournemouth hoping to rediscover some form. When they do so, they'll encounter a homegrown product of their own in Benik Afobe, who has now scored three goals in three games for his new club. Afobe is an Arsenal academy product now making his impact felt in the top flight, but it took a move down to League One to set him on a course towards the Premier League. Adobe joined MK Dons on loan in the summer of 2014, before a permanent move to Championship Wolves gave him the platform to win a switch to Bournemouth.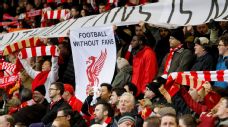 Seeing Afobe thrive in the Premier League, Arsenal fans could be forgiven for wondering why he was let go when the misfiring Yaya Sanogo was retained. Afobe was part of the same youth sides as Jack Wilshere, yet ultimately was deemed of insufficient quality to make the grade at Arsenal. The wait for a homegrown goalscorer goes on. How Arsenal supporters would love to herald a centre-forward with the "he's one of our own" chant Spurs use to laud Harry Kane.
Most of the British players left at Arsenal are young enough that they could still make the grade. It's not impossible that Oxlade-Chamberlain will find the end product required to fulfil his potential, or that Wilshere will overcome his injuries to become the mainstay of the Gunners midfield. Arsenal fans will hope so. Seeing Spurs above them in the Premier League is painful enough -- seeing them execute a policy of accumulating young British talent more effectively merely rubs salt in the wound.
James McNicholas is one of ESPN FC's Arsenal bloggers. You can follow him on Twitter @gunnerblog.