Does Arsene Wenger have a last-minute signing in store for Arsenal?
As the line was delivered, Arsene Wenger completely failed to suppress the smile creeping across his face. "Maybe we have a good surprise for you," he told his interviewer, shooting a conspiratorial glance to a target off camera as his face creased up.
It was Sept. 1, 2013, and Wenger was being gently interrogated after Arsenal's 1-0 win over Tottenham. A North London derby victory is a good reason to smile, no doubt, but why the coy tease when asked if Arsenal had any plans to make a late move into the summer transfer market? Just 24 hours later, on deadline day, the reason for Wenger's uncontrollable joy was apparent: Arsenal had signed Mesut Ozil from Real Madrid for a club record fee of £42.5 million.
It was a signing that went completely under the radar, politically sensitive for one obvious reason: Tottenham were unwittingly delivering Ozil to Arsenal by agreeing a deal with Real Madrid for Gareth Bale, the man whom Ozil had to make room for as he departed the Bernabeu. This is the nature of the football market, where many big transfers depend on clandestine agreements and require other deals to grease their wheels.
It is why you can never quite rule out something happening on deadline day, and for all their reputation for being sensible and stingy, Arsenal have partaken in the madness a few times themselves in the past. It is also why Arsenal fans will be closely studying Wenger's body language when he conducts his post-match interview following Saturday's FA Cup fourth-round match against Burnley at Emirates Stadium.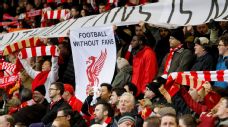 All current indications are that Arsenal's January spending has finished. Mohamed Elneny is the only signing so far, having been purchased from FC Basel at a cost of £7m. Wenger stirred up some excitement among supporters when promising a "busy" transfer window at the start of January, but by his standards signing one notable player -- with the attendant documentation that comes with recruiting a non-European star -- probably does constitute a busy winter.
Arsenal have signed only one player in the January transfer window no less than seven times. Only once has Wenger signed more than two new names -- the veritable transfer orgy of 2006 when Theo Walcott, Abou Diaby, Emmanuel Adebayor, Mart Poom and Carlos Vela all arrived at the club -- and in 2007 he didn't sign anyone at all.
Viewed in this context, Arsenal's transfer window activity in 2016 is entirely normal, average. And yet, there have been growing reports that something might be done before the window closes.
Elneny has plugged a hole in the squad in midfield and, with Francis Coquelin back in training, the need for a defensive-minded player to take the load off Mathieu Flamini has subsided. Coquelin could even make his return at the weekend. But if Arsenal do have room for another addition at the moment, it is probably in attack.
That is the way Wenger could be leaning, even if you take into account the fact he has Olivier Giroud and Theo Walcott at his disposal, if the latest transfer rumours are to be believed. Links with Celta Vigo striker Nolito have been resurrected in recent days, with Barcelona, previously thought to have snared the man who has scored eight goals and five assists in 15 La Liga appearances this season, reportedly pulling out of the deal.
Another name to have bubbled up in the past 24 hours is Dynamo Kiev forward Andriy Yarmolenko, who has been linked repeatedly with Everton this season. Wenger, though, has agreed a fee of £23m for the Ukraine international, according to the London Evening Standard.
There are good reasons to doubt both links. Nolito is 30 in October -- hardly the profile of a Wenger signing, particularly halfway through a season -- while Yarmolenko is apparently more likely to move at the end of the campaign, if indeed he does at all. But from a place of relative calm, Arsenal now have two potential transfers floating in the ether, ready to be debated and dissected by fans and media alike before the window definitively closes. It's enough to hang some intrigue on at least.
The only man who really knows is Wenger, and the close circle of his confidants who get deals done at Arsenal. If the Frenchman starts talking about another "good surprise" on Saturday, maybe Arsenal aren't done for the winter. But history, and logic, suggest otherwise.
Tom is one of ESPN FC's Arsenal bloggers. You can follow him on Twitter @tomEurosport