Mathieu Flamini's lack of discipline a detriment to Arsenal
If Arsenal losing to Chelsea in the Premier League on Sunday had an unfortunate familiar feel to it, there was at least one completely unexpected development: Mathieu Flamini's self-reinvention as an ersatz centre-forward.
On an afternoon which exposed cavernous cracks in Arsenal's title challenge, there was at least some dark humour to be derived from Flamini's penalty-box excursions. But they were significant too, demonstrating why the Frenchman can be a liability and how Arsenal's soft belly can be tickled and then gutted without a defensive midfielder of note.
Perhaps Flamini had failed to get the joke when Mesut Ozil recently suggested that Flamini should be in contention to win the Ballon d'Or with a tweet which included a very pertinent winking emoji. How else to explain his attempts to steal the show on Sunday?
It is true that Arsenal were lacking a centre-forward's presence after Olivier Giroud was substituted for Gabriel Paulista following Per Mertesacker's early red card. It is also true that Theo Walcott was producing little of quality in the final third and Ozil was barely a threat when he was left as the lone central forward.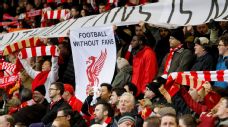 But Flamini should not have been anywhere near the penalty area, let alone trying finishes which would represent a degree of difficulty for Zlatan Ibrahimovic. Instead of simply heading the ball on 45 minutes when played in by Aaron Ramsey, for example, he leapt up and tried to execute a mid-air volley using the outside of his boot. In the second half, he tried a back-heeled flick at the near post: Two flashy but unsuccessful attempts for "Flam-ibrahimovic", who incredibly had the most shots on goal in the match, three, joint with Willian and Diego Costa.
It may have been entertaining, but it also said much about Flamini's unsuitability to the holding role and the damaging influence he had on Arsenal's performance against Chelsea. Francis Coquelin has had exactly three shots all season.
This is important, because it is Coquelin who Flamini is supposed to be deputising for. Coquelin, who shields the defence and only shields the defence, doing a magnificent job of precisely that for the past 12 months. Flamini does not have his application, ability or discipline; instead he has a habit of joining Ramsey in charging up towards the final third. Flamini apparently thinks he is a box-to-box player, when in fact he offers too little in either defensive or offensive zones.
His willingness to vacate the deep positions in midfield on Sunday had the particularly damaging effect of helping out an old friend. Flamini and Cesc Fabregas used to be very close indeed, forming a highly effective dynamic in Arsenal's midfield in 2007-08, the last time they went close to winning the league. Along with Tomas Rosicky and Alexander Hleb, they made for an unlikely bunch of best mates, but the quartet forged a genuine camaraderie off the pitch and struck a near perfect balance on it.
Flamini knew his place in this midfield. Fabregas was the playmaker supreme, Rosicky the dangerous operator from the left and Hleb the shot-shy, mesmeric dribbler on the right, the spiritual father of the pre-assist. Flamini chased everything down at the back, providing the platform for the more talented players to get on with creating magic. It is a skill he would do well to resurrect, if he is still capable.
The partnership with Fabregas in particular was a thing of alchemy, and the Frenchman does have a habit of latching onto the most talented player in the squad. But lately Flamini appears to have forgotten that it is not his remit to be the star and the match-winner. He is Johnny Drama, not Vincent Chase.
On Sunday his indiscipline allowed Fabregas far too much time and space to influence the game and the Chelsea midfielder duly produced one of his best performances of the season to win against his former club.
Flamini also stood off Willian for the red card incident, allowing him to saunter up the pitch and find Costa with the through ball which would scramble Mertesacker's brain and draw him into a rash challenge. Faced with the same scenario, it is hard to imagine Coquelin being so passive.
The good news for Arsenal is that Coquelin is back in training and could soon relieve Flamini of his duties. Manager Arsene Wenger has chosen not to sign a defensive midfielder with Premier League experience in January so there are few other options with Mohamed Elneny presumably not yet up to speed following his transfer from Basel and Mikel Arteta in a vertiginous decline.
The loss of Coquelin and Santi Cazorla for extended periods was always going to be a problem, but the indiscipline which Flamini showed on Sunday has exacerbated it. Scoring twice in the Capital One Cup against Tottenham earlier this season was a fun anomaly, but trying to play as a striker in an important Premier League game against Chelsea was not the best use of the fading talents of a player who can be a danger to his team.
Tom is one of ESPN FC's Arsenal bloggers. You can follow him on Twitter @tomEurosport