Petr Cech class keeps Arsenal on course in Premier League title race
Arsenal will seek the comforts of home for their next Premier League fixture after two games away at grounds that consistently prove both frustrating and difficult. Late goals at Anfield are becoming all too regular -- perhaps some cosmic balancing for what happened in 1989 when the Gunners won the title in injury time -- while at Stoke, the search for a first win there since 2010 continues after Sunday's 0-0 draw.
On the balance of that game, you'd say it was a fair result. Both teams can thank their goalkeepers for making hugely impressive and important saves but it was a day that demanded huge concentration from Arsene Wenger's team, as ever subject to a barracking from the home fans at any available opportunity. "Aaron Ramsey, he walks with a limp," they sang in spite, referencing the shocking injury inflicted upon him at that ground six years ago.
Time might have healed the physical wounds, allowing Ramsey to blossom into one of the best midfield players in the Premier League, but not the scars that are bizarrely apparent in the Stoke psyche. Quite how the man who had his leg broken became the pantomime villain is beyond any reasonable rationalisation but football is strange at times.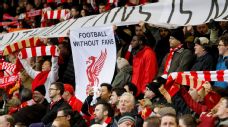 So when we look at the performance of Petr Cech, once again superb for his new team, his importance goes beyond the saves he made. As is their absolute right to do so, Stoke try and rattle Arsenal every time they go there. They're physical, they compete for every ball and if a mistake is made, the crowd amp up the intensity even more.
In seasons past, Arsenal goalkeepers with lesser temperaments have shanked kicks out for throw-ins, handing momentum to a team that is as pumped up as they can get. Arsenal at home is like a derby for them; therefore you don't want to hand over any more of the initiative.
Such jitters can spread to the rest of the side and so the unflappable nature of the Czech international is an extra dimension he brings to the team. The saves, in particular the double stop to deny Joselu and Bojan on the follow up, were unquestionably good. But when it came to crosses he was strong and committed and his kicking was almost perfect every single time, with an 80 percent success rate in finding a teammate.
To have a player at the base of the spine who can help avoid unnecessary pressure being heaped on the team is hugely important in games like this, and it's hard to escape the feeling that with a different goalkeeper Arsenal may have had to go back to North London without the point they earned.
Next weekend Cech will face his old club, Chelsea, for the third time this season. Arsenal won the Community Shield but lost at Stamford Bridge in contentious circumstances. After two gruelling and physically demanding away games in four days, Wenger will be glad to have a full week between fixtures as well as the benefit of playing at home again.
And what better time to reintroduce Alexis Sanchez to the fold? He hasn't played since November due to a hamstring strain and while Arsenal have lost just one of those games, it really feels like they could do with having him back in the side. The spark of unpredictability, the relentless enthusiasm, the desire to make something happen and his "one man as a swarm of bees" approach to hassling opposition defences will be a welcome boost.
Add a slightly rested Mesut Ozil to the attacking mix and perhaps the some of the tiredness that's punctuated recent performances will evaporate as the quality in the starting XI increases.
Arsenal will probably feel disappointed at having taken just two points from the last two games -- that late goal at Anfield is especially irritating -- but sitting top of the table with home games on the horizon and last season's top scorer on the way back could be just the thing they need to get going again as the title race heats up.
Andrew Mangan is one of ESPN FC's Arsenal bloggers. You can follow him on Twitter: @arseblog.