Elneny could get baptism of fire at Arsenal bogey ground the Britannia
Think of a place you don't like to go. Work, perhaps. Having to visit distant relatives. Your kid's school play -- sure, they're cute but let's be honest, kids can't act for toffee and the whole thing, your own child's glorious cameo aside, is as tedious as it gets. The dentist! Nobody likes going to the dentist.
So, when we think about places we don't like to visit, Stoke, and the Britannia Stadium, are Arsenal's dentist. Much is made of the Gunners' record against the Potters, but since their promotion to the Premier League in 2008-09, the Londoners have won every single game they've played against Stoke at the Emirates Stadium. Eight games played, eight games won, with an aggregate score of 19-3.
Away from home, it's a different matter entirely. Seven games played, just one win, along with four defeats and two draws. The game in which they did triumph is the one that is the cause of much of the deep-seated enmity between the two sets of fans.
Ryan Shawcross snapped Aaron Ramsey's leg in 2010, and was sent off. Late goals from Thomas Vermaelen and Cesc Fabregas won the game for Arsene Wenger's side, and remarkably it remains the only time they've won against Stoke away from home in recent times.
At this point it has to be something psychological. In terms of quality, the home fixtures show that Arsenal are more than a match for them, but at the Britannia the atmosphere, the memories of previous games and an inability to deal with a Stoke side whose physicality has skirted the bounds of legality at times, has seen them disappoint more often than not.
Last season, Wenger was roundly booed by some fans after another defeat, with Joel Campbell, a late sub that day and thus blameless, urged to leave the club for his own sake -- the implication being that he ought find somewhere decent to play football before Arsenal dragged him down with them.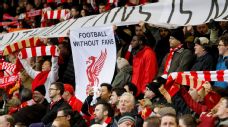 It would be quite fun to find out what Campbell thinks now. Having started the season on the fringes, he's won plaudits and a regular place in the side because of his performances. Injuries may have opened the door, but the Costa Rican himself has ensured the chance offered to him has been well and truly taken. It's no wonder Wenger pointed to similarities between his story and that of Francis Coquelin last season.
Not to mention the fact that Campbell is playing in a team that is currently top of the table. The frustration of dropped points at Anfield in the 3-3 draw with Liverpool on Wednesday has, perhaps, obscured that fact. The Arsenal manager's post-game comments about there being more positives than negatives from that performance are not simply to keep his team's spirits up.
There's an element of that for sure, especially ahead of a game at a ground that has been so difficult for Arsenal in recent seasons. No manager worth his salt is going to say anything that might demoralise a group of players who will know as well as anyone else that when you lead 3-2 going into injury time you should take all three points from the game.
But if we step back and examine the result in isolation, as you ultimately have to do, there were positives for Wenger to build on. Twice Arsenal went behind, twice they pulled themselves level with fantastic goals -- that speaks to character.
What will be of concern before a game at the Britannia Stadium will be that in the past two games away from home, seven goals have been conceded. On the one hand, a 4-0 defeat to Southampton is something of an outlier in relation to the rest of the season and the Liverpool game was the kind of crazy, frenetic fixture the Premier League is capable of throwing up fairly often, but it also suggests defensive frailties that can be exposed.
The back four and goalkeeper have, in general, been consistent performers so far this season, so it's hard not to look a little further forward when we seek an explanation. The loss of both Coquelin and Santi Cazorla hasn't really been felt when you look at results, but it's clear to see that the partnership of Aaron Ramsey and Mathieu Flamini really hasn't developed in any significant way.
When Coquelin was in the team, Arsenal allowed an average of 10 shots per game to the opposition. In his absence, that number has grown to 15, a 50 percent increase.
When you allow more shots, chances are you'll concede more goals. The men up front are doing their best to offset the loss of Coquelin and Cazorla, scoring 19 in nine games across all competitions (averaging more than two per game), but conceding 10 and keeping only four clean sheets is something Wenger will have to take into consideration.
Fresh legs may help, with Alexis Sanchez mooted for a return on Sunday, but with the centre of midfield the key issue, it wouldn't be a surprise to see new signing Mohamed Elneny given a debut. Away from home at Stoke -- a team whom Arsenal have struggled against away -- would be a real baptism of fire for the Egyptian international.
Yet this is what top-flight football requires. It won't quite be sink or swim, but if he can help tighten things up and contribute to an Arsenal win, it would be a fantastic way to start his career in North London.
Andrew Mangan is one of ESPN FC's Arsenal bloggers. You can follow him on Twitter: @arseblog.