Arsene Wenger has suffered at Stoke but can underline title credentials
Arsene Wenger is Arsenal's greatest manager of modern times but his near-20 years in charge have not been without bumps along the road.
In recent years, many of those have come at Stoke, where Wenger's team visit on Sunday in search of their first Britannia Stadium win in nearly six years. It is also the site of his most extreme and public breakdown in relations with supporters.
On Dec. 6 2014, following a 3-2 defeat in which they were three down at half-time, Wenger was verbally abused by a group of his club's own supporters at Stoke-on-Trent railway station as Arsenal's squad were boarding a train back to London. Wenger's arrival on the station platform was greeted by a baying mob, in an incident captured on many a smartphone.
One of the agitators, with a tone of distended rage, told Wenger to "get out of my club!" as foul language filled the night air. Wenger's face remained impassive but it was a hugely unedifying spectacle.
Defeat at the Britannia dropped the Gunners to sixth and that insurrection followed a banner of protest being displayed in the away end at West Brom the previous week. "Thanks for the memories but it's time to say goodbye," it had read.
"You would not expect people to insult you on the way to the train," Wenger said in July. "It's the way society has gone and you have to go with it. You can take it or not take it."
Wenger can most definitely take it. Away from that madding crowd, he found a formula to rescue the 2014-15 season -- Arsenal won a second successive FA Cup and secured automatic Champions League qualification -- and is on course for even greater success in the current campaign. Ahead of his return to Stoke he was philosophical, almost forgiving of the train-station incident.
"It was my function and the fact that I'm responsible for the club that was attacked," he said on Friday. "I didn't take it personally. I was sad and upset more by the result than by the individual reactions of people, which I can understand. When you love a club, you want the results to be positive."
Doubts remain despite Wenger's team, who enter the weekend top of the Premier League, being primed to win their first title since the "Invincibles" of 2003-04. Arsenal squandered a golden chance to go five points clear of Manchester City on Wednesday when they conceded a late equaliser at Liverpool.
Equally, though, City's 0-0 draw against Everton brought back memories of the last time Manuel Pellegrini's team failed to score at home, which happened to be the day Arsenal harnessed the full effects of the tactical alterations, which now make them a serious title proposition.
On Jan. 18 2015, six weeks after their Stoke ordeal, the Gunners completed a highly professional 2-0 victory at Etihad, with tight organisation at last married to their usual flair. This was a new, far hardier Arsenal.
If Wenger's team can regularly produce that level of performance for the rest of this season, where only Leicester have kept pace with them to date, the title should be theirs. By contrast, more defensive performances like that seen at Anfield or in a 4-0 defeat on Dec. 26 at Southampton could be ruinous.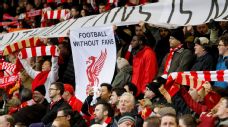 Wenger hopes that new arrival Mohammed Elneny, the Egypt international signed from Basel this week, can soon replicate Francis Coquelin's defensive midfield contribution. The Frenchman had established himself as crucial to Arsenal's cause until a November knee injury ruled him out until February at the earliest.
Elneny is in contention to play at Stoke in a fixture which, even before last season, had so often provided trauma to Arsenal. Even their last win there, a 3-1 victory in February 2010, was overshadowed by the broken leg suffered by Aaron Ramsey after a heavy tackle from Ryan Shawcross, an incident that still stirs ill feeling between fans.
Under Mark Hughes, who replaced Tony Pulis as manager in 2013, Stoke's style of play has become more free-flowing, yet the very thought of the fixture can still stir feelings of dread in Gunners fans. Wenger admitted as much on Friday before issuing some mitigation regarding the impressive home form of his side's next opponents.
"We have struggled in recent years," said Wenger. "But they also have a good home record against Manchester United and City."
Last season's station shenanigans have not altered Arsenal's logistics and Wenger and his team will travel under heavy security in a first-class railway coach. Moreover, the manager says that he welcomes fan interaction.
"We travel in what we think is the best and the shortest way," he said. "You want as well not to be isolated too much because you want contact with people who love the club; you want contact with the fans."
Arsenal's Stoke hoodoo needs to be broken. Victory on Sunday -- and a title to follow on from that -- would make that mutinous mob forever embarrassed for barracking their manager.
John Brewin is a staff writer for ESPN FC. Follow him on Twitter @JohnBrewinESPN.