Arsenal striker Olivier Giroud is starting to prove his doubters wrong
Where one legendary Arsenal striker, Thierry Henry, once disparaged him live on television, declaring Olivier Giroud would never win his club the league title, on Wednesday night another was deliriously professing his love for the Frenchman after his two-goal showing in the dramatic 3-3 draw against Liverpool at Anfield.
"I love you Olivier, I love you! I love you Olivier! Keep it going, we're going to do it man," screamed BT Sport pundit Ian Wright.
Now, Wright is not the most austere of Arsenal observers. His rather endearing use of "we" when covering their games betrays the fact he remains more fan than pundit. But still, this could hardly have been more different than the appraisal offered by Henry following Arsenal's 0-0 draw with Chelsea last April. "I think Giroud is doing extremely well," said the man who trumped Wright for the all-time goalscoring record at Arsenal, "but can you win the league with him? I wouldn't think so."
Can Henry's argument still be maintained? Is it still justifiable to say that Giroud can't win Arsenal the Premier League? The case against the striker, which has been pretty well established, is receding by the week in what is both his best campaign for Arsenal, and perhaps more importantly the most open title race the English top flight has seen for some time.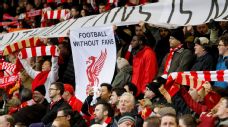 Analysis from The Telegraph on Thursday showed that Giroud is improving in many key metrics this season: He is scoring more goals per minute than ever before (more than Cristiano Ronaldo in fact) and his shooting accuracy and shot conversion rate are also impressive. Moreover, his 12 Premier League goals have won seven points; Harry Kane's 11 goals for Tottenham have earned just one.
Giroud has unmistakably grown as a player in 2015-16. Perhaps it was the humbling experience of being dropped for Theo Walcott earlier in the season which has forced this most divisive of strikers to find the capacity to improve himself. But either way, there is little doubt that he is an essential player for the team currently joint top of the table. It is difficult to make the case that winning his team the title is not within his grasp.
Giroud was Arsenal's talisman again in what was a hugely testing evening at Liverpool. Arsene Wenger's team were suckered into playing Jurgen Klopp's brand of heavy metal football as they were knocked out of their orchestral groove, which Klopp identified as a feature of Wenger's teams in an interview with the Guardian in 2013.
In a frantic, chaotic first half under the rain and sleet at Anfield, Roberto Firmino scored twice and hit the bar as Liverpool threatened to overwhelm the league leaders. But Arsenal kept in touch, with Giroud at the centre of the response. The Frenchman was involved in the build-up for Aaron Ramsey's equaliser after 14 minutes and, after Firmino had scored his second, it was Giroud who brought Arsenal level and then gave them the lead on 55 minutes with a brilliant goal.
The way he flicked a deflected pass from Joel Campbell back through his own legs, spun Kolo Toure and curled his shot into the corner of the net has been described as Dennis Berkamp-esque, but it also had something of a Nwankwo Kanu about it -- a moment of intuitive brilliance which no one saw coming from a striker who can go hot and cold.
It was also a night that showcased more than just Giroud's improved goalscoring. As Arsenal sought to bypass the famed Klopp press, they went over the top more often than usual and Giroud was called upon to exercise his physical attributes too, battling for high balls and showing off his hold-up play. He was central to Arsenal's approach and he could hardly be faulted when they conceded a last-gasp goal to Joe Allen to draw the match 3-3.
Still, in this most unpredictable of seasons, when any team can beat anyone else, a draw at Anfield is hardly a major setback. A win would have sent out a bigger statement about Arsenal's title credentials, but on a night when Manchester City also drew it may well be viewed as a useful point, whatever the circumstances. And without Giroud they wouldn't have even secured a draw.
At this point, some of Giroud's detractors may be so entrenched that prevailing opinions of him may prove hard to shift. Certainly he is a player who invites vigorous debate like few others do. Some will say that he hasn't won the argument yet, and a glaring miss from close range against Liverpool meant there was evidence to confirm both perspectives of Giroud on Wednesday night.
Winning dyed-in-the-wool Gooner Ian Wright round is not the hard part. But Giroud is doing enough this season to make even his fiercest critics take pause.
Tom is one of ESPN FC's Arsenal bloggers. You can follow him on Twitter @tomEurosport