Arsenal's Premier League title credentials set to be tested
It might be too much to say that the next four fixtures in the Premier League calendar could make or break Arsenal's title chances, but there's little doubt that the upcoming games will have a significant impact on the team's chances of winning the league for the first time since 2004.
After a visit to Liverpool on Wednesday, Arsene Wenger's team travel to Stoke four days later, before hosting Chelsea on Jan. 24 and Southampton on Feb. 2. It's a sequence that, under any circumstances, would prove testing, but with the added pressure of leading the league and a long injury list, it is set to provide a proper measure of the Gunners title credentials.
We know Arsenal have plenty of talent and we know there are players about to come back from injury, as well as the imminent arrival of Mohamed Elneny but being able to cope with the growing expectation is another thing.
It might well be a cliche, but this is very much one game at a time territory and a trip to Anfield is never easy. Even if Liverpool are stricken by injury, the magnitude of a game against Arsenal demands a committed performance, with Wenger remarking that he expects a "ferocious battle" between the two sides.
Arsenal's recent record against Liverpool away from home has been good. Aside from a brutal 5-1 defeat in February 2014, they have won three and drawn four. Last season they played poorly, but led going into the sixth minute of injury time only to concede a late equaliser from a corner.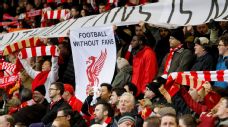 At this point of the season Arsenal need their most experienced heads to guide them through games and situations that will prove challenging. It's fair to ask questions of mentality when they haven't won the league since 2003-04, especially as they have twice squandered decent chances to win it.
In 2007-08, the drama that followed Eduardo's broken leg in a draw at Birmingham contributed to the missing of a title they could have won and, in 2013-14, Arsenal topped the table for longer than any other team, but ultimately drifted away to finish fourth.
As for the current squad, it feels as if the balance between youth and experience is about exactly where it should be.
The 2008 side, for example, lacked real guidance or leadership. When your captain sits down on the pitch having a tantrum, as did William Gallas at Birmingham after two points were dropped, you can be sure that when the going gets really tough, you'll get found out, which is exactly what happened.
The comparison to 2013-14 is growing, meanwhile, but there are key differences. Then, Mesut Ozil and Per Mertesacker hadn't won the World Cup with Germany, while Arsenal also didn't have the two best full-backs in England, with Nacho Monreal superbly consistent on the left and the exciting Hector Bellerin - "the Premier League's outstanding right-back" -- tearing it up down the right.
Nor, in 2013, did they have the calm assurance of Petr Cech in goal and his presence as they head towards the business end of the season will be vital. This is not an Arsenal team without winners -- almost all of the squad have FA Cup medals after successive triumphs in 2014 and 2015 -- but there's something extra needed to go the distance over the course of 38 games.
For all the experience of players like Ozil, Mertesacker, Monreal, Laurent Koscielny, Copa America winner Alexis Sanchez and Ligue 1 champion Olivier Giroud, the knowhow of Cech could well prove crucial.
Leaving aside what he brings to the team with his undoubted quality as a goalkeeper, the benefit of having a man who has won the Premier League four times in your dressing room -- even if he was basically understudying Thibaut Courtois for the last one -- cannot be understated.
Generally football matches are decided by very fine margins and the team that can master the important moments best is usually the one that comes out on top. Pressure and expectation can affect performance, particularly heading down the final stretch. Cech has been there, done that, and could wear the t-shirt if he so desired.
That doesn't obscure the need for a collective effort and there's been plenty of evidence that this Arsenal is made of sterner stuff than previous iterations. The next four games won't decide the title, but if they come through them well, the Gunners could set down a marker in the race with which others find it tough to keep up.
Andrew Mangan is one of ESPN FC's Arsenal bloggers. You can follow him on Twitter: @arseblog.