Wenger must guide Arsenal through FA Cup, Liverpool & Stoke clashes
Arsene Wenger faced damaging and hurtful accusations over his attitude to the FA Cup in the wake of a humiliating 4-0 defeat to Manchester United in the fourth round on Feb. 16, 2008.
At the time, Wenger's team were gunning for the Premier League title, and the Frenchman made some changes as he looked to freshen the side up to deal with multiple challenges across different competitions. It was clear that he was prioritising the league over the cup, and perhaps that was too evident to his players who performed poorly at Old Trafford.
Some fans and pundits said he wasn't taking the competition seriously, but the claims were levelled at a manager who had, at that point, won the FA Cup four times for Arsenal.
The terrible defeat to United seemed to be a catalyst for disaster. A week later, Croatian striker Eduardo had his leg shattered by a brutal challenge and Arsenal drew 2-2 at Birmingham in a game they should have won. The impact of that day was seismic; further injuries in the subsequent weeks to Bacary Sagna and Mathieu Flamini also played a big part, and the title eventually went to United as Arsenal crumbled.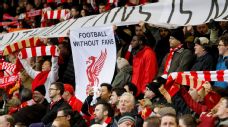 Jump to this season and there's a similar situation unfolding. Wenger's team are genuine contenders for the league and they're top of the table with a squad that is unquestionably thin at the moment. To be where they are, in spite of so many injuries, says a lot about the character of the players.
But the upcoming schedule in the league is daunting, to say the least. Two games away from home against Liverpool and Stoke are followed by home fixtures against Chelsea and then Southampton, a team that recently hammered them 4-0.
It means that Saturday's FA Cup clash with Sunderland is one for which Wenger will have little choice but to downgrade in terms of its importance to Arsenal's season overall. Fans have thoroughly enjoyed winning the famous old trophy for the last two seasons, but even with the desire for silverware sated a little, there's pressure to achieve more and win the league for the first time since 2004.
Wenger can't admit to taking it less seriously than the Premier League, though, and has stressed he wanted his team to go through.
"Everybody dreams of winning the FA Cup," he said. "I've won it six times, that means I take it seriously. Nobody has won it more, so that means it's not that easy to win it."
For his players to maintain some modicum of freshness as they head to Liverpool next Wednesday and the Britannia Stadium the following Sunday, he has little choice but to change things around and use the cup as a chance to rest some on whom the greatest burden has fallen.
Mesut Ozil, for example, has looked comparatively jaded in recent weeks -- the effects of playing so often and being the driving force of the team in absence of Alexis Sanchez catching up with him. Olivier Giroud has played almost every minute of every game. Aaron Ramsey and Flamini have been the only two established central midfielders available, and although their partnership hasn't always been convincing, they've put in the miles.
The return of Mikel Arteta is a short-term bonus for Saturday, and with Wenger revealing the move for Egyptian Mohamed Elneny is almost complete, there are more medium-term options for him, particularly in the midfield area.
Perhaps where the Arsenal manager can feel confident is that a potential front three of Theo Walcott, Alex Oxlade-Chamberlain and Joel Campbell will have plenty of energy. Between injury and establishing a place in the squad late in the season, they're unlikely to be suffering from fatigue.
All three have something to prove to one degree or another. Walcott will want to show he deserves a place up front ahead of Giroud, whose goal scoring has been consistent and impressive in recent months. Campbell will be keen to add to the contributions he's made since becoming semi-regular and help secure his Arsenal future. Oxlade-Chamberlain will be desperate to show that the suspect form he has shown this season is not truly representative of him as a player.
With Sunderland also likely to make changes due to the league schedule, there's a greater chance that the players rested for Arsenal won't be so badly missed and for one or two to give their manager something to think about.
Andrew Mangan is one of ESPN FC's Arsenal bloggers. You can follow him on Twitter: @arseblog.