Time for Alex Oxlade-Chamberlain to prove he can fulfill potential at Arsenal
This was the season when it was all supposed to happen for Alex Oxlade-Chamberlain. Arsene Wenger's decision to view Theo Walcott as a striker meant less competition for places in the wide areas, and the late return of Alexis Sanchez from his extended summer holiday and his Copa America exploits provided Oxlade-Chamberlain a chance to really give his manager something to think about in the early part of the campaign.
He got off to a good start, scoring a fine winning goal as Arsenal beat Chelsea 1-0 in the Community Shield at Wembley, but in the opening Premier League game against West Ham, he was culpable for the visitors' second goal as the Gunners went down 2-0 at home.
Seasoned Arsenal watchers have grown rather too accustomed to Oxlade-Chamberlain losing the ball in dangerous areas in the last 12 months. In some ways he's been unlucky -- players of all kinds lose the ball frequently and aren't always punished so harshly, but he's been going through a spell in which several concessions are turned into dangerous situations for the opposition.
His hot-and-cold nature could be best illustrated in that Champions League defeat to Monaco in February of 2015. Arsenal had played poorly, missed a plethora of very presentable chances and found themselves 2-0 down heading into injury time. They needed something to take into the second leg, and with just minutes of time added on left, Oxlade-Chamberlain gave them that, curling a magnificent shot into the top corner to make it 2-1.
While there was certainly a collective madness about the team's decision to try to get a second rather than regroup and take what they had, the England man carelessly lost the ball on the halfway line almost straight after the kick-off, and Monaco stormed forward to score what proved to be the decisive goal in the tie.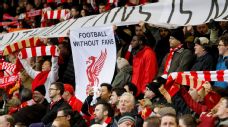 The goal was what people believe Oxlade-Chamberlain to be capable of, not least Wenger, who has given the midfielder every opportunity to find some form in a season in which he's struggled to find any. The mistake that led to Monaco's third goal more closely represents the player right now.
If you watch Oxlade-Chamberlain speak, it's clear he's a very smart, very intelligent young man. He's sharp and witty but, it seems, prone to introspection that may well be damaging to his career.
Speaking in September, the Arsenal manager spoke about his player's need for more confidence in his own ability.
"I think Alex Oxlade-Chamberlain must believe more in himself," he said. "He must believe more in his talent and that will help him develop as a player. I think sometimes he is too critical of himself. I would like him to play with the freedom and express the desire of his talent."
It's interesting to compare him to Walcott, another Southampton graduate, who you might say doesn't think enough at times. Yet that can also be a strength. A series of misses or poor performances that would clearly affect Oxlade-Chamberlain doesn't seem to do the same for Walcott. He shrugs it off until the next one comes along and it goes right (there's obviously a balance to be found in that regard, but one seems infinitely more debilitating than the other).
More and more it feels as if Oxlade-Chamberlain must break through some kind of psychological barrier to make the next step in his career. At times he seems to switch off, especially in defensive situations in which he's prone to watching rather than reacting. It can't be because he's not aware of what he needs to do, so it's likely a matter of concentration, and it's a flaw in his game that really needs to be ironed out.
Perhaps the fact that he's yet to absolutely nail down a position is factor. Wenger has often said Oxlade-Chamberlain will eventually end up as a central midfielder, but he's been unable to fully establish himself as a starter on the flanks, with Aaron Ramsey preferred there for most of this season until injuries forced the Welshman back into the middle. Even that didn't open the door fully as Joel Campbell's performances mean he's more deserving of a place right now.
Oxlade-Chamberlain is a player with fantastic qualities. Pace and power, a cracking shot, good crossing ability, and he can dribble and run directly at opponents in a way few others in this Arsenal side can. At 22 he's still got time on his side, but there's only so long a manager can wait for a player to come good.
Oxlade-Chamberlain must start showing that the potential he has can be fulfilled. With the second half of a key season for the Gunners upcoming, Arsenal fans will hope that happens sooner rather than later.
Andrew Mangan is one of ESPN FC's Arsenal bloggers. You can follow him on Twitter: @arseblog.