Arsenal stumble vs. Spurs but still keep pace atop the Premier League
Back in the dark ages of his playing days in France, Arsene Wenger used to read a passage from the Bible before games to settle himself. As a manager, however, he found that these pre-match prayers had no such salutary effect on his players, a development which, much to his surprise, actually delighted him.
"It means," Wenger said in an interview with the French magazine L'Equipe published this past week "that my team does not necessarily need God to win."
That may be true, but as the Arsenal boss found out this week, his team does need some combination of Theo Walcott, Hector Bellerin, Alex Oxlade-Chamberlain, Aaron Ramsey, Jack Wilshere, Danny Welbeck, an all-action Alexis Sanchez, a GPS-equipped Olivier Giroud and an awake Santi Cazorla. Since all of the above were either absent or utterly useless in Munich midweek and at the Emirates on Sunday, all a Gooner can do is turn to religion or drink for solace.
In my case, the hangover lingering from Wednesday's Champions League debacle made the choice easy.
But Sunday was a new dawn, if a slightly false one. Only a seriously deluded Gooner (wait, is that redundant?) thought that Arsenal had any chance of beating Bayern for a second time in two weeks, but Spurs? Doesn't the Arsenal season-ticket package include at least one win at home over their despised, mind-the-bleedin'-gap neighbors? I mean, in their last 22 games at our place, Spurs have won only once, and that was five years ago when Arsenal had the likes of Marouane Chamakh leading the line.
Granted, Tottenham came into the game in uncharacteristically good form -- they hadn't lost in the league since Opening Day and Harry Kane had re-discovered the goal-scoring mojo that will no doubt lead England to another quarterfinal elimination in the next European Championships -- but they were still Spurs, and Arsenal owned them in much the same way that Bayern owned Arsenal at the Allianz. Add to that the fact that the Gunners were desperate to banish those scary Bayern ghosts and show their fans the real Arsenal, albeit minus six starters.
As if any more incentive were needed, Man City provided it only minutes before kickoff by being unable to crack the impregnable Aston Villa defense and settling for a scoreless draw, which gave Arsenal a clear view of the promised land of first place in the table and a chance to go two points ahead of the Sky Blues.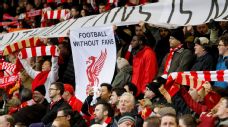 The thing with Arsenal, though, is that reality tends to intrude on the fantasy when you least expect it. Could anyone have foreseen that the Gunners would be bullied by their arch-rivals for most of the first half -- a first half in which Kane gave Spurs a well-deserved lead when Arsenal's Laurent Koscielny mistook him for Lewandowski and tried to play him offside? It worked about as well as it did against the Bayern goal machine and left England's Savior Du Jour all alone in acres of space with only Petr Cech to beat, which he did calmly and confidently.
Meanwhile, the Gunners' midfield of twinkle-toed pixies were getting overrun by the bigger and more physical Spurs trio of 19-year-old Dele Alli, 21-year-old Eric Dier and Mousa Dembele, who gave Mesut Ozil, Cazorla and Sanchez no time to create their usual havoc.
Suffice to say, Arsenal's liveliest player in the first half was Joel Campbell, who was arguably their sixth choice right midfielder behind Walcott, Welbeck, Ramsey, Wilshere, and Ox. The Costa Rican, starting his third consecutive game for the depleted Gunners, ran hard, held up the ball reasonably well and gave Danny Rose a sly smack in the face that the Tottenham defender turned into a death spiral.
Wenger's inability to rotate his midfield due to injuries is finally beginning to bite Arsenal in the derriere. Cazorla appears spent and he picked up on Sunday where he left off on Wednesday, a tired, wobbly player who for all the good he did against Spurs, might as well have remained sitting on the turf at Allianz Arena watching David Alaba make it 3-0 for Bayern after stripping the ball from him en route to unleashing his heat-seeking missile past Cech.
Normally a bundle of preternatural energy and menacing intent, Sanchez looks thoroughly sapped as well and you have to wonder what Wenger was thinking keeping the Spaniard and the Chilean on the field for the entire 90 minutes in the 5-1 Munich drubbing. With the international break upon us, the latter now gets to go off to South America and play for his country in World Cup qualifiers, from which he'll no doubt return even more well-rested.
On Sunday, Wenger bizarrely let a "dizzy" Cazorla continue to struggle until the break before lifting him for Mathieu "The Tottenham Killer" Flamini, the one-time Arsenal enforcer who saw scant action this season before scoring a brace against Spurs in the Gunners' 2-1 League Cup victory at White Hart Lane on September 23. The combative Frenchman gave the Arsenal midfield a semblance of balance but he was unable to replicate his improbable goal-scoring heroics from the first meeting. And with Arsenal's one genuine scoring threat, Olivier Giroud, in let's-see-how-many-sitters-I-can-miss-today mode, the Gunners were toothless until the 74th minute when Wenger threw on left-back Kieran Gibbs for Campbell.
What a stroke of managerial genius from Le Prof! Four minutes later, Arsenal were level when Ozil hit one of his seeing-eye crosses to the back post and Gibbs beat Kyle Walker to the ball. You couldn't exactly say that the Arsenal defender put it away with a Dennis Bergkamp-ian flourish, but he did force it past a flailing Hugo Lloris to ignite an almighty roar from the Arsenal mob at the Football Factory. Hands slapped, fists bumped, beers flew and a rousing chorus of "We hate Tottenham" rocked the pub.
After being outplayed and outfought for most of the match, could Arsenal now snatch the three points that would put them above Man City in the table? Would there be enough beer to endure those final frantic minutes? Could Giroud miss another free header? No, mercifully, and of course.
But let's face it -- it could have been worse. A less resilient Arsenal team -- and, God knows, there have been no shortage of those over the years -- might not have clawed their way back from a goal down to dig out a draw, a point that wasn't lost on the youngest Gooner at the pub, a tow-headed 8-year-old named Ryan. Wearing a Ramsey jersey ("it was the only one in my size") and an expression of relief as the final whistle blew, Ryan was asked how he enjoyed his first North London derby. He looked up at his dad, as if for permission to speak.
"I liked it," he replied, "a lot more than Wednesday's game."
David Hirshey is an ESPN FC columnist. He has been covering soccer for more than 30 years and written about it for The New York Times and Deadspin.