Gonzalo Higuain's move to Chelsea puts Milan's UCL hopes, future in further doubt
If there's a lesson to be learned from the Gonzalo Higuain saga at Milan, following his loan to Chelsea, it's maybe to think twice about signing a rebounding player with a point to prove to Juventus. It ate up Leonardo Bonucci last season and consumed Higuain in spectacular fashion for the first half of this campaign.
When Milan played Juventus in November they didn't just lose the game, they appeared to lose Higuain too. Never the same after his penalty miss and the meltdown that followed a red card, Higuain didn't score again until Milan's final outing of 2018; a nearly 15-hour goal drought stretching over nine games. The club was disappointed in him and that, in turn, disappointed a sensitive player.
In the summer Higuain confided that the deciding factor in his decision to join Milan was the conviction with which they pursued him and the feeling that everyone at the club wanted Pipita to follow in the footsteps of Marco van Basten, Andriy Shevchenko and Zlatan Ibrahimovic. As for Chelsea's interest, there was a "fundamental difference." It wasn't "grandissimo amore" -- the big love Fleetwood Mac sing about. Higuain got the impression "only the coach wanted me" at Stamford Bridge.
Over time, though, he must have started to think that the two scenarios maybe weren't that different after all. One of Ivan Gazidis' first inputs as chief executive at Milan was to express a reluctance to commit tons of money to players nearing or over the age of 30, which is interesting because, as my ESPN colleague Gabriele Marcotti has written, that's exactly what Arsenal did with Pierre-Emerick Aubameyang, Henrikh Mkhitarayan and Mesut Ozil toward the end of Gazidis' time at the Emirates.
Another major factor is the Financial Fair Play settlement UEFA proposed for Milan in December. It, too, must have significantly influenced the club's thinking. The crux is this: Milan have to break even by June 2021, and make no mistake -- it won't be easy. Faded glory and the club's continued absence from the Champions League have affected revenue, and boosting it enough in that time span to cover for the investment the team needs is so unrealistic that Milan are appealing the settlement in a case that has the potential to change FFP as we know it.
You might say Higuain is the fall guy in this context. Dumped by the Old Lady for Cristiano Ronaldo, his latest breakup comes down to money. Higuain has already cost Milan €17 million in loan fees and (gross) wages. They are now off the hook for the €100m it would have taken to make the deal permanent and keep him on his current salary until 2021.
Sensing doubt rather than affection upstairs, Higuain presumably made the judgment that if the viewpoints at Milan and Chelsea balanced out and it came down to the coaches, then, with all due respect to Gennaro Gattuso who has stood by him throughout his time at San Siro, there is no contest. Higuain would always pick Maurizio Sarri, his "second father." Who better to take refuge in at this low ebb of his career than the guy under whom he played history-making football?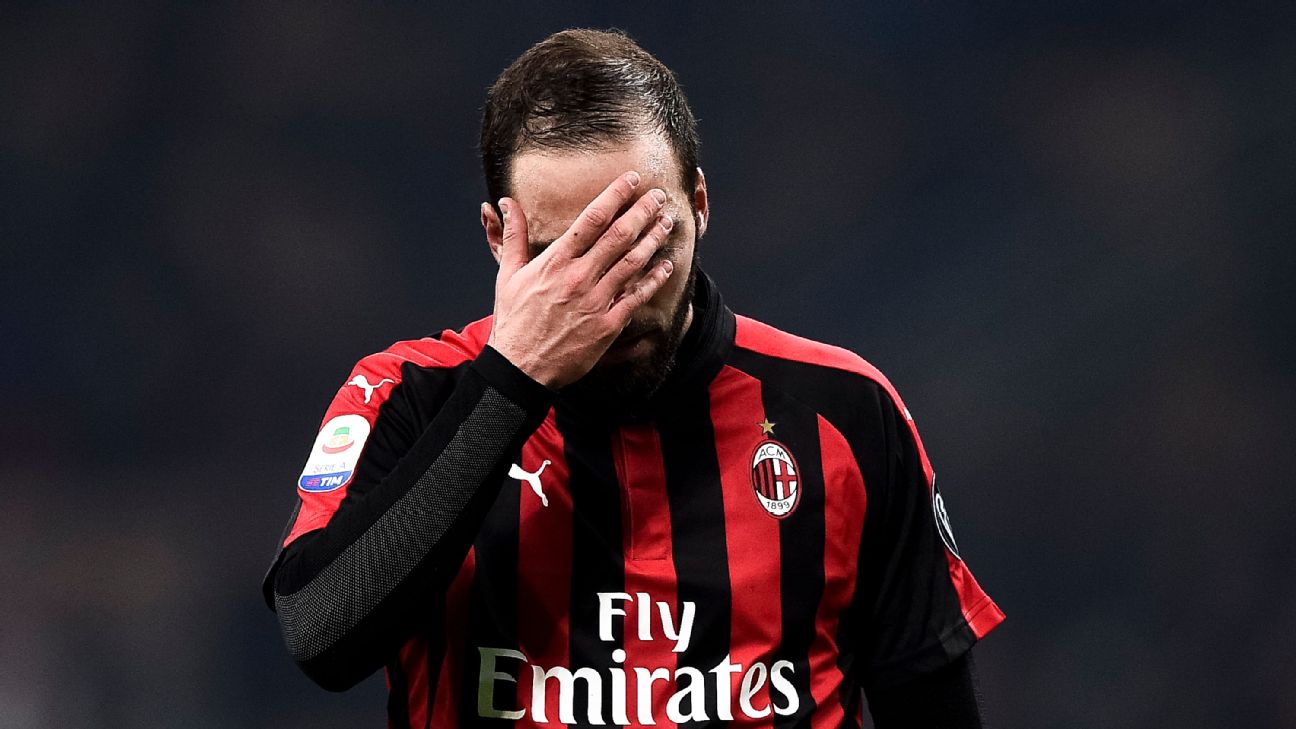 While shedding the financial burden Higuain posed must come as a relief, some feeling of regret is understandable on Milan's part. Since Filippo Inzaghi retired, the No. 9 shirt seems cursed; and if Higuain can't lift it, who can? He is the striker to whom all others look up to in Italy; the most prolific since he came into the league five-and-a-half years ago. But outside of a run of seven games between late August and the end of October when he scored six goals and set up another for Patrick Cutrone -- a stoppage-time winner against Roma -- Milan were unable to tap into it.
Injuries to key individuals started to pile up after the Derby della Madonnina, which impacted the collective and with it the fluency and variation that could have helped Higuain express himself better. The rest of the blame lies squarely with the player himself.
So where do Milan go from here? Higuain was the team's star signing and the player who made people believe Milan could return to the Champions League. Had he stayed at the San Siro, the confidence in Milan's chances would no doubt be higher than it is now for the simple reason that if it suddenly clicked for him and the goals started flowing they would have themselves one of the best centre-forwards in the world.
His expected replacement, Genoa striker Krzysztof Piatek, is younger (23), earns a fraction of the money Higuain does and costs less. He has been the revelation of the Serie A season so far and would be top of the scoring charts alongside Ronaldo had the authorities not ruled one of his strikes an own goal. Whether the Poland international can sustain the form he has shown up until now -- note that Piatek is out-performing his xG by 2.5 goals -- remains to be seen, particularly as Milan's No. 9 shirt seems to turn even the hottest strikers cold.
Calls for more faith to be placed in Cutrone, Milan's top scorer in all competitions (nine goals), is conditioned by two factors. First, the club is reluctant to let a player who turned 21 two weeks ago shoulder the expectation of Champions League qualification, and that's despite the precocious Cutrone becoming the youngest Milan player ever to hit double figures in Europe and the only player other than Kylian Mbappe to be born after New Year's Day 1998 to have scored 10 or more goals in a single season in one of Europe's top-five leagues. Second, they need to make up the numbers in his position; otherwise, the only depth at centre-forward is provided by Fabio Borini and Samul Castillejo.
On the bright side, Milan are fourth and not 11th -- which is where they were at this time last season. The Champions League is still within touching distance. A single point is all that separates them from fifth-place Roma, but they no longer have the Europa League to distract or drain them. Lucas Biglia should be back soon and it's hoped that talented January signing Lucas Paqueta can -- if not be as successful as Cafu, Thiago Silva and Kaka -- at least pick up the slack left by Giacomo Bonaventura, whose goals from midfield remain an unfilled void.
Something needs to improve, though. Milan's attack ranks ninth in the league and the club rank seventh in touches in the opposition penalty area. Scrutiny of the transfer business done in the summer is mounting and not just over Higuain; Castillejo, for instance, cost €25m, hardly an insignificant amount for someone who has started only five league games.
The momentum for the final Champions League berth now looks to be with Roma and Atalanta, both of whom have more experience of finishing fourth or higher in recent seasons. Heading them off will not be easy. The next four months will be a major test for Milan.