AC Milan are living in the past under the ownership of Silvio Berlusconi
On more than one occasion this season, AC Milan manager Pippo Inzaghi has said: "I don't have a magic wand." Indulging in a little fun, the journalists on the Milan beat decided to get him one as a present. Opening it in the last news conference before Christmas, the rookie coach laughed.
"You're a magician when you win," he said. "You can't say that when you lose."
At the time, Inzaghi looked to be pulling a rabbit out of a hat. Milan had beaten Napoli 2-0 at the San Siro and would hold Roma to a 0-0 draw at the Stadio Olimpico, a performance that hinted at a maturing coach and an improving team. Then chief executive Adriano Galliani left a gift under the Christmas tree by exchanging Fernando Torres for Alessio Cerci, a player who had been top of Inzaghi's wish list in the summer. After Boxing Day, Milan flew to Dubai and surprised Real Madrid 4-2 in a friendly. Things seemed to be coming together.
The papers believed Milan were giving themselves the best possible chance of returning to the Champions League. Owner Silvio Berlusconi got carried away. Imagine the disappointment then when they lost their opening game of the calendar year to Sassuolo. It was the first time that has happened since 1997. A fortnight later Milan are still without a win in Serie A in 2015.
Against Torino, they went in front through a Jeremy Menez penalty. It was their only shot on target. Down to 10 men for the entire second half, they elected to defend their lead, playing 5-4-0. If it weren't for goalkeeper Diego Lopez, they would have lost. He faced 27 shots. Instead Milan drew, conceding from a set piece for the eighth time this season. It was nothing more than they deserved. Milan's tactics were what Italians call provincial; those of a small club.
Supporters whistled after Sunday's 1-0 defeat to Atalanta at the San Siro. But Inzaghi has never made any secret of how difficult it would be for Milan to finish on the podium this season, reminding everyone that the team placed eighth in the last campaign -- their worst finish since 1998. Everybody needs to be realistic. Berlusconi hasn't been. Before Serie A resumed after the winter break, he claimed he wouldn't swap Milan's squad with Juventus' or Roma's. Are you kidding?
Fans know better. They have watched their team get beaten at home by Sassuolo and Palermo -- and be played off the park by them, too. They're surprised Berlusconi is surprised at the defeats.
"I'm more disconcerted than angry," news agency ANSA claim Berlusconi said. "I understand that it's no longer the times when we went to Barcelona and won, but it's unacceptable to lose against teams with players who earn five times less than ours." He later denied saying any such thing, but as a grievance it holds.
Milan have the third-highest wage bill in Serie A. Their payroll is only 4 million euros less than Roma's, yet there is a points differential of 15. True, one has been ramping up while the other has been downsizing, but tell me who has made the smarter choices in recruitment -- keeping in mind that Philippe Mexes is Milan's highest earner.
Made up of loans and free transfers, another thing remarkable about their transfer strategy is how it revolves around picking up the scraps thrown to them by the elite. Lopez was disposable at Real. Alex and Menez were disposable at PSG. How do you expect to compete with the best when you're assembling a team with their hand-me-downs?
Inzaghi has had to make a necessary virtue out of using Menez as a false nine after the club didn't sign a striker in the summer unless you count Torres. Signings such as Torres, Kaka the year before, Michael Essien and a number of others are symbolic of Milan's current state: no longer what they once were. Depending on a player as mercurial as Menez to score you goals and win you games (four of his nine strikes have come from the penalty spot) is a risky strategy.
Milan have scored 27 goals in Serie A, one fewer than Cristiano Ronaldo has managed by himself for Real Madrid in La Liga. Do you really believe that Inzaghi, as a former striker himself, doesn't realise how valuable a proper centre-forward is? Sure, he's got Giampaolo Pazzini, but does he actually suit the style of play Inzaghi wishes to impose?
Their difficulty scoring wouldn't be such a problem if Milan had the defence of old. But they don't. Milan have taken 12 points from their last 13 games. They are four better off than at this stage a year ago when Massimiliano Allegri was sacked. Still, it's worth noting that his successor, Clarence Seedorf, did better in the second half of last season (35 points) than Inzaghi has done in the first half of this one (26). The silver lining of being closer to the final Champions League place than last season -- the gap then was 20 points, whereas today it is seven -- owes little to Milan improving and more to the regression of sides like Napoli, Inter and Fiorentina.
Still, you feel for Inzaghi. Yes, his tactics are a touch one-dimensional, but he's young, has potential and needs time to make mistakes and learn from them. If you appoint him, you have to accept that. Considering Milan's state, you wonder whether it was the right choice. Because if you don't have the players of old, it's up to the coach to make the difference. Attracting a top one, however, when they have so little to offer was probably beyond them.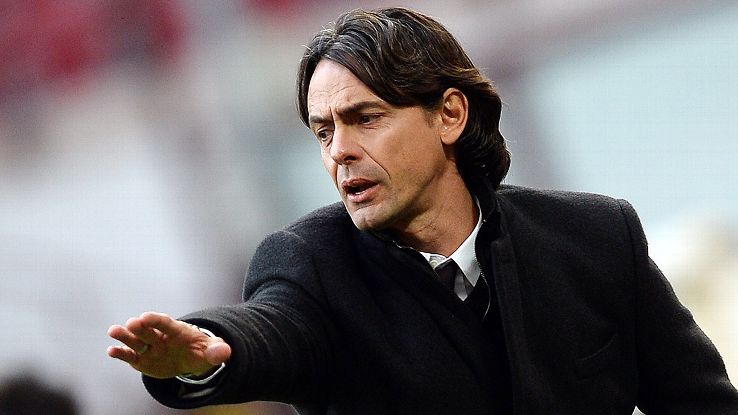 Berlusconi has to come to terms with the reality. Former player Zvonimir Boban believes the owner has made "a grave error of perspective. A great confusion between what [Milan] are and what they think they are." There's an arrogance, a refusal to accept the truth. "Someone has believed in something that could never exist, at least not with this squad," Boban told Il Corriere della Sera. "The president unfortunately has lost sight of what football has become today. What Berlusconi did in the past is one thing. What he does now is another. As is the case with Milan."
They're living in the past. Hiring Seedorf then Inzaghi, relics of it, must be seen in that light. As must the expected return of Arrigo Sacchi, even if his role will be to reinforce an identity by educating youth team coaches in the ways he moulded the likes of Franco Baresi and Paolo Maldini.
While Milan are holding on to yesterday, they are no closer to a better tomorrow. Their crisis is existential. The Grande Milan, the one we became accustomed to over the last 30 years, doesn't exist any more. If Berlusconi is honest, and he needs to be, this is more like the Milan that went without a title between 1907 and 1951 or the one that yo-yoed at the end of the '70s through the early '80s.
He needs to do what's right by Milan. A report in La Repubblica indicating he is fed up and considering a sale has been denied. But financial advisory firm Lazard were asked a year ago to sound out potential investment just as they did for Massimo Moratti before he sold Inter. "If you love something, set it free," was Moratti's thinking. After selling off Milan's team bus this week, and to great derision too -- even if Juventus and Inter have done the same in recent years -- maybe it's time for Berlusconi to follow Moratti's example.
James covers the Italian Serie A and European football for ESPN FC Follow him on Twitter @JamesHorncastle.