Chelsea's Sarri: No regrets over reaction to Kepa incident
LONDON -- Maurizio Sarri said he has no regrets about the way he acted during his public clash with Kepa Arrizabalaga during Chelsea's defeat against Manchester City in the Carabao Cup final.
Kepa's refusal to be substituted during extra time at Wembley prompted an enraged Sarri to scream at his staff, tear at his clothes and storm away towards the tunnel in full view of the TV cameras, before returning to the touchline.
Sarri then appeared to be restrained by defender Antonio Rudiger as he attempted to confront Kepa during Chelsea's team huddle prior to the penalty shootout, from which City emerged as 4-3 winners.
"No, why?" Sarri replied when asked if he regretted his reaction. "I needed one minute to return in my mind, I think.
"I was really upset in this moment and I needed to return calm and in control of my mind. It was a big misunderstanding. I didn't want to go to the penalties with a goalkeeper with cramp. I think that I took only 40-45 seconds [to regain composure]...when the match started again, I was on the bench.
"I spoke with the players [at the end of extra time]. Very briefly because we had only to kick penalties, so I have to say five names. Not tactics."
Chelsea said on Tuesday that Kepa has been fined one week's wages for what he described as "a big mistake," but Sarri brushed off any questions about his own conduct in the heat of the moment at Wembley.
Chelsea's decision to fine Kepa -- with the proceeds donated to the club's foundation -- was a timely public show of support for Sarri, who remains under huge pressure after a disappointing start to 2019 raised questions about his ability to deliver Champions League qualification this season.
Many claimed the incident fatally undermined Sarri's authority as head coach, but the Italian himself does not think his standing has been diminished.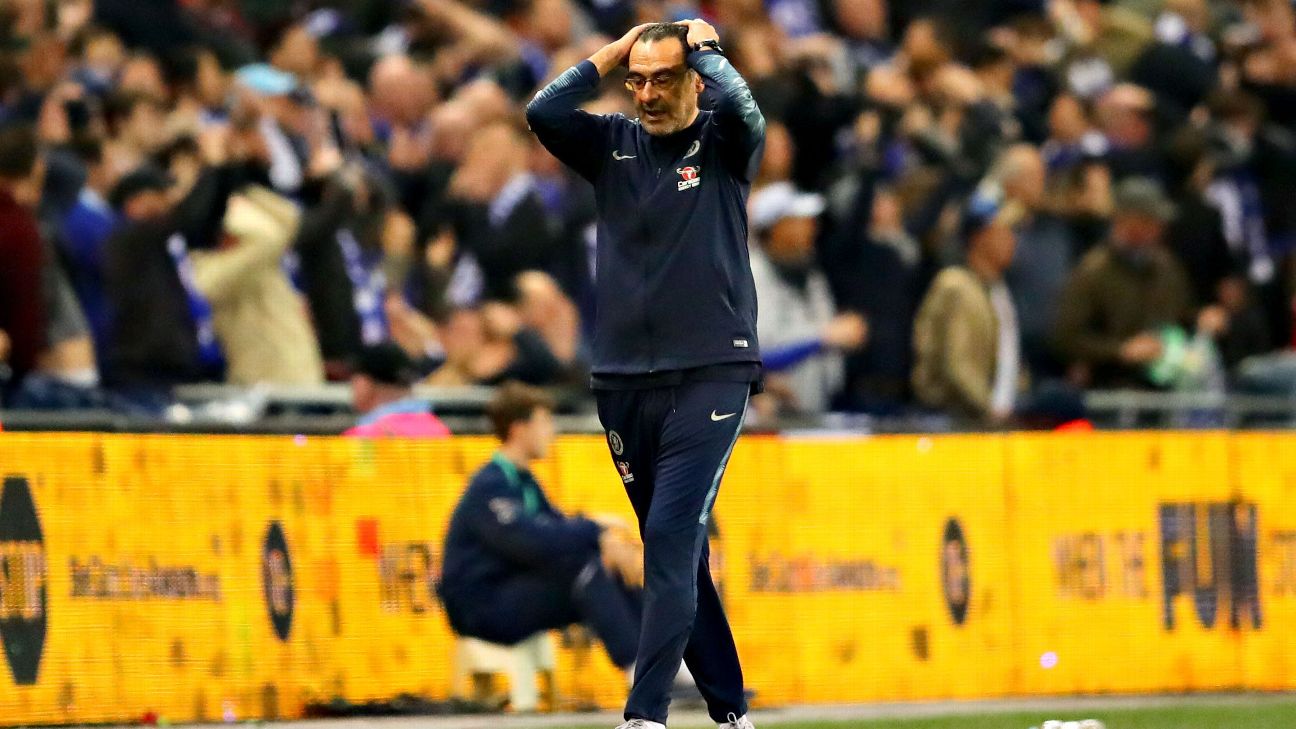 "I spoke with Marina [Granovskaia] this week, before the final, just for good luck," he said. "I spoke to Marina after the match about the Kepa situation. My relationship with the club is like before."
The visit of Tottenham to Stamford Bridge on Wednesday could prove a key moment in Chelsea's challenge for a top-four finish in the Premier League, while there will also be plenty of scrutiny on the reception Sarri gets from his home supporters.
Chelsea's head coach was assailed by loud chants of "f--- Sarriball" from Stamford Bridge during Monday's 2-0 defeat against Manchester United in the FA Cup fifth round, but Sarri said it is not his primary concern against Spurs.
"I was disappointed in the atmosphere for my players," he said. "Only for my players.
"But I think I can understand the fans, of course. I can understand, because they are used to winning. Now we have a difficult moment. But I'd like to see more support for my players, not for me."