Chelsea boss Sarri still hasn't heard from Abramovich since Man City humiliation
Maurizio Sarri said he has not spoken to Roman Abramovich about his job this week after saying he would welcome a call from the Chelsea owner.
Sunday's historic 6-0 loss Premier League champions Manchester City raised fresh questions about Sarri's future at Chelsea, and the Italian invited further speculation about his job security by telling Sky Italia that he would be happy to talk to Abramovich because he never hears from him.
Speaking at a news conference to preview the first leg of Chelsea's Europa League round-of-32 tie with Malmo, the Italian said no such conversation has yet taken place and clarified his earlier comments.
"Not in this week," Sarri said when asked if he had been in contact with Abramovich. "It depends on the president. It's not never, not very often. Not never. The interview was in Italian, I am better than you at this.
"I have spoken to him, not this week. I would like to speak to someone of the club, not necessarily the owner. I speak to Marina [Granovskaia, club director] and for me that is enough."
Sources have told ESPN FC that Chelsea are not currently considering Sarri's position, but Champions League qualification has always been the primary objective and further setbacks in the Premier League or elimination from the Europa League could put his job at risk.
February is a key month, with an FA Cup fifth-round tie against Manchester United and the Carabao Cup final against City either side of the Malmo tie, while Tottenham visit Stamford Bridge in the Premier League on Feb. 27.
However, Sarri said he is taking one test at a time.
"Tomorrow is the most important, then Monday [in the] FA Cup the most important, then final of the League Cup," he insisted. "We need to have short-term targets.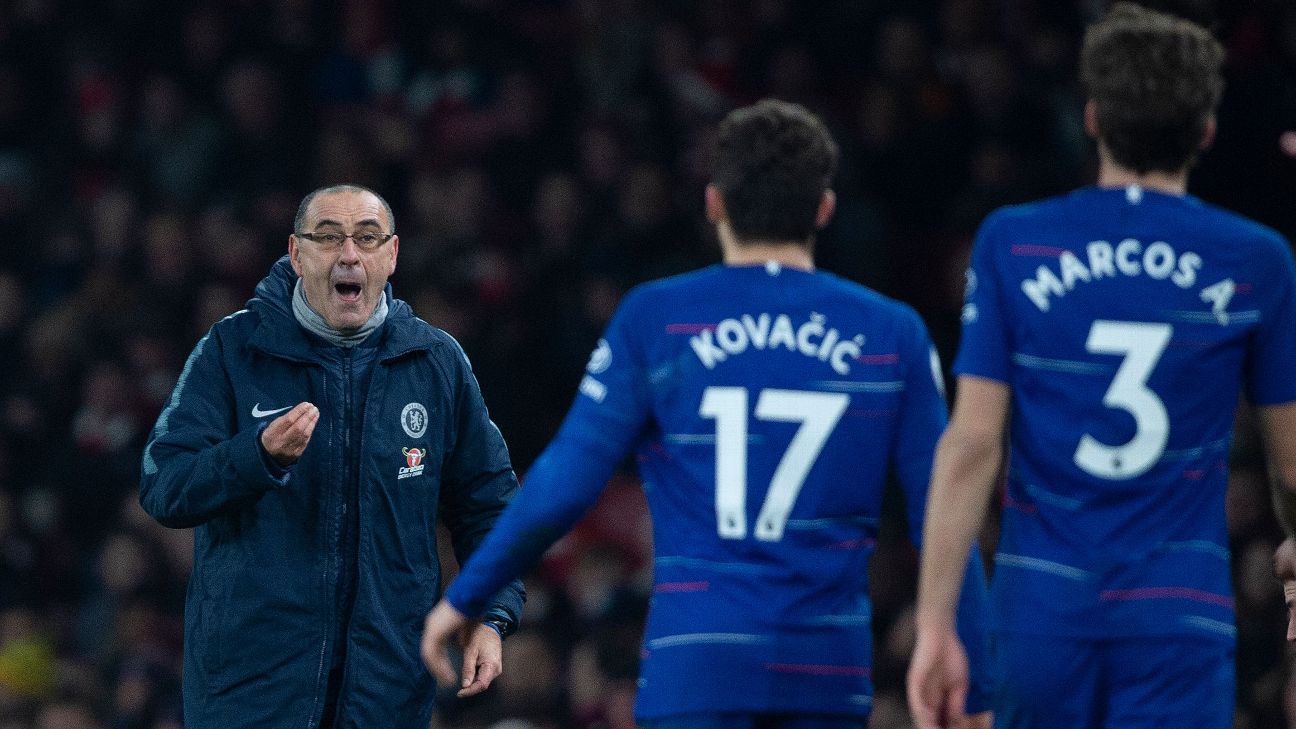 "We need to have a good result. We need to get through [in the Europa League], then win the [Carabao Cup]. We need targets in the short term and then [we can] dream in the long term."
Ruben Loftus-Cheek (back) and Danny Drinkwater (tendon) did not travel with the Chelsea squad to Sweden for the Malmo match on Thursday, while Sarri also elected to leave Marcos Alonso in London to rest.
Chelsea's head coach met with his players for an hour on Sunday after the City loss, and Pedro Rodriguez admitted that he and his teammates struggled to process the club's worst defeat for 28 years.
Asked if he had ever lost 6-0 before, the Spaniard replied: "Never in my career. It is hard, but now it is the past.
"It is difficult, it was probably the worst [result] of the season. It is hard [to deal with]. Tomorrow is so important now. That is the past and it is good to get ready for tomorrow."
Recent collapses against Arsenal, Bournemouth and City have led many to claim that Chelsea's players are either incapable or unwilling to carry out the tactical instructions required for Sarri's expansive, possession-based 4-3-3 system, but Pedro insisted this is not the case.
"No, for the team it is clear the idea of Maurizio," he added. "It is true it is hard to play against City, but we need to be focused for tomorrow.
"All the players follow the idea of Maurizio. Sometimes it is difficult to play in this way. But I prefer to play in this way to press, rather than wait for 90 minutes for the ball and then run 60 metres to score.
"It is difficult -- when you lose you feel so bad. I think it is good tomorrow to change this dynamic."