Chelsea's Gary Cahill admits he had to calm Diego Costa against Stoke
STOKE -- Gary Cahill revealed that he spoke to Diego Costa to calm down the striker after he became embroiled in a series of physical tussles during the first half of Chelsea's 2-1 win over Stoke City on Saturday.
Costa engaged in running battles with numerous Stoke defenders as Chelsea struggled to impose themselves early on at the bet365 Stadium, earning a yellow card for dissent from referee Anthony Taylor in the 17th minute after protesting the official's decision not to award a free kick.
After the match, Antonio Conte praised Costa for showing "great discipline" to avoid a second booking, and Cahill -- who has captained Chelsea in the absence of John Terry since the shift to a 3-4-3 formation in September -- said he made an effort to help the Spain international keep his cool.
"I remember speaking to him in the first half, telling him just to keep his cool," Cahill said of Costa. "He's on the edge at times, but that's the way he plays and [Stoke] are a physical team.
"It's important we didn't get dragged into that kind of fighting battle and Diego handled himself really well up there.
"If you feel you're getting fouled but not getting the decisions, it's going to frustrate you. He's not a robot. I think he felt like 'this is a foul, this is a foul' and some were, some weren't.
"But he battled through it, he kept going, and he hit the post which could have been a goal. It's important we keep him on the pitch because he's a match-winner for us -- at any time the ball can drop to him and he can finish, as he's shown on loads of occasions this season."
Stoke City

Chelsea
Game Details
Goalkeeper Thibaut Courtois said he believes Chelsea have benefited from Costa learning to keep his cool in the face of provocation this season.
"They were very physical and it was hard to find our usual game," the Belgian said of Stoke. "They tried to put our players out of the game by doing that. They know Diego doesn't like it and he maybe starts to fight with people. Maybe they do this to get him a red card or something.
"In some moments maybe Diego exaggerates a bit as well, but I think most of the time they were hitting him quite well.
"After four or five 50-50 moments where the referee can whistle or not whistle, he gets a bit angry and gets a yellow card. So it's important for him to stay calm and he's developed that a lot this season.
"When they kicked him, he remained calm and that's very good for us because in the worst case, he would have got a second yellow card and been out of the game.
"It's a good job he remained calm and dealt with what happened to him and moved on. Diego is the type of guy who has a lot of energy and goes for every ball and he gets kicked as well. People know how he is as well and a lot of Stoke players got a yellow card for fouls on him. He was always calm and he does well for us."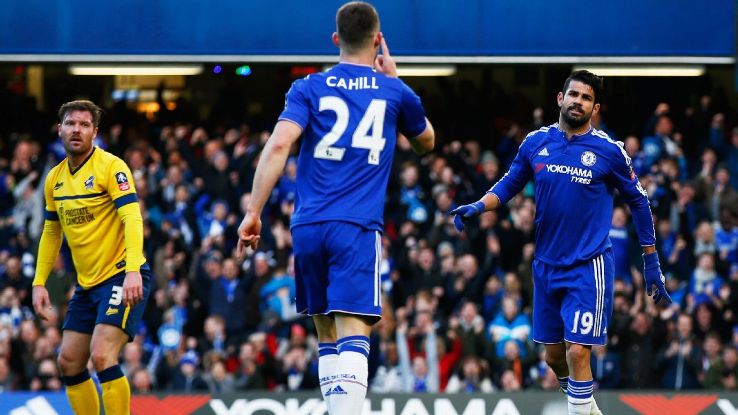 Cahill prompted wild celebrations from Conte in the Chelsea dugout when he lashed in the game's winning goal in the 87th minute, pouncing on an Erik Pieters mistake from a Cesc Fabregas corner.
It was a moment of relief as well as jubilation for Cahill, who conceded the 38th-minute penalty that enabled Jonathan Walters to cancel out Willian's early free kick opener.
"As you saw with my celebration, it's a blur [when you score a goal like that]," he added. "I just went absolutely berserk. Playing my position, to have a penalty like that go against you, you can almost see the headlines: 'Cahill should have done this, Cahill's dropped this' and whatever.
"I've felt like this a couple of times this season; people are quick to criticise and when things are going well and we're winning games and keeping clean sheet after clean sheet, it's kind of looked upon as the norm. But we've worked hard to do that. The moment you make an error, it's highlighted tenfold.
"It's always the same playing at a big club. I'm not expecting any different. I was just proud of my character because you keep going. It dropped to me in the box and the rest is history. That could be a massive result for us. Not just myself but the team, for the character we showed.
"At 1-1 it looked very tough. It was hard to break them down and get that chance. But we kept going and got the result we wanted in the end."
Liam is ESPN FC's Chelsea correspondent. Follow him on Twitter: @Liam_Twomey.