FA desire to punish Chelsea's Diego Costa perceived by Guus Hiddink
LONDON -- Guus Hiddink has accused the Football Association of going out of their way to punish Diego Costa after the striker found himself at the centre of a series of controversial incidents during Chelsea's FA Cup quarterfinal defeat to Everton on Saturday.
Costa received his first red card in English football at Goodison Park after reacting angrily to a Gareth Barry foul in the 84th minute. He is due to serve a two-match suspension, with the extra match coming courtesy of the retrospective three-game ban handed down by the FA in September for his actions in an altercation with Arsenal defender Gabriel at Stamford Bridge.

Chelsea
West Ham United
Game Details
A separate investigation into an alleged bite from Costa during his tussle with Barry was dropped after both players publicly denied that the offence took place, while the FA were also satisfied with the Chelsea striker's explanation for a gesture towards Everton supporters at half-time.
But Costa still faces a misconduct charge for his angry protests towards referee Michael Oliver and his refusal to promptly leave the pitch in the wake of his dismissal. If found guilty next week, the Spain international could see his ban extended to three matches and Hiddink claims he can "smell" a desire within the FA to deal with his striker as harshly as possible.
"You cannot prove the bite, so sometimes, in my opinion, they are looking a bit where they can chase him," Hiddink said before clarifying: "The officials [within the FA].
"If the player is frequently, bit by bit, provoked, and we all do it ... you play a bit with that, it's part of the game, how far can you get someone out of his comfort zone and into the red zone ... we have to control that, the player has to control that. So that is why I said I cannot guarantee he will not explode. But I sometimes get the impression [the FA] go for him because [the bite didn't happen]."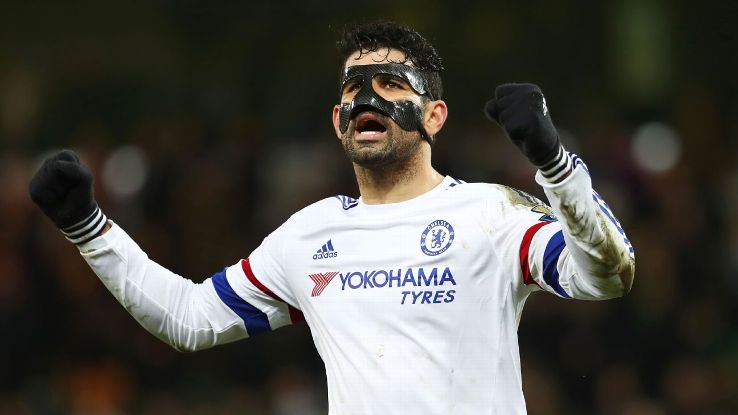 Hiddink revealed that he had a private conversation with Costa about the incident earlier this week and added: "What I smell and didn't like, and what I spoke about with Diego, is we both had the feeling [the FA] could not charge him on the kiss, 'but let's see what else we can get him for.'"
Earlier this week sources told ESPN FC that Costa is considering a summer move away from Chelsea, having failed to settle in London and become frustrated with reports linking the Blues with other high-profile strikers.
Hiddink is already set to leave Stamford Bridge when his second interim spell comes to an end in May, with Italy coach Antonio Conte widely expected to take over after Euro 2016, and the Dutchman admits he may choose to end his full-time coaching career this summer.
"My plan is not to plan anything," Hiddink insisted. "When I'm living in the present, I don't know what to do tomorrow. In June there's the Euros and I'm close to that, so I'll follow that.
"I know myself a bit and I will be involved within some clubs or players. Not on a working relationship. Consulting ... that's a beautiful word. I did want to work in football before. From my side, I must feel the energy -- and I feel energetic -- but from the other side they must not see me as an old man.
"It must be fresh. But I don't want to go somewhere for three or four years. Projects, you need two to three years. ... This could be my last daily job? I think so. Shoot me if it's not..."
Hiddink also confirmed that captain John Terry is available to return to Chelsea's starting lineup after overcoming a hamstring injury and making his 700th Blues appearance as a substitute against Everton, while Eden Hazard could be sidelined for up to a month with a thigh problem.
Liam is ESPN FC's Chelsea correspondent. Follow him on Twitter: @Liam_Twomey.