Eden Hazard sent Jose Mourinho 'sorry' text after Chelsea exit
Chelsea midfielder Eden Hazard has revealed he sent a text message to manager Jose Mourinho apologising for his poor form.
Hazard, who swept the board in the player of the year awards as Chelsea won the Premier League title last season, failed to replicate his stunning form as Mourinho's men struggled in the early part of the 2015-16 campaign.
Mourinho parted company with the club in December, and Hazard, who has yet to score in the Premier League this season, has said he felt guilty.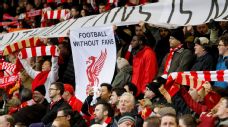 "I sent him the message to say I was sorry he had gone and ... well ... just that I was sorry," he told The Guardian. "We'd enjoyed all that success together last season, but this time round we hadn't.
"I felt a little bit guilty because I'd been player of the year. I'd been one of the most decisive players, and this year I'd performed less well.
"I hadn't been at the same level. So I sent that text to Jose and he came back to me, wishing me all the best for the future.
"For a team of champions to go through what we have this year even I can't explain. Things have been better recently, but we're still not winning games quite as we used to. No one can put his finger on what's happened at Chelsea."