Chelsea will face battle to keep star players this summer - Guus Hiddink
LONDON -- Chelsea will have to show ambition in the summer transfer market if they want to keep their star players, according to interim manager Guus Hiddink.
A disastrous first half of the season under Jose Mourinho has left the Premier League champions languishing in 13th in the table after 24 matches, 16 points adrift of fourth-placed Arsenal, and yet to settle on a new permanent manager.
Chelsea's likeliest route into next season's Champions League now looks to be winning this year's competition and there have been suggestions that key players such as Diego Costa and reigning PFA Player of the Year Eden Hazard could re-evaluate their futures at the end of the campaign.
Atletico Madrid president Enrique Cerezo revealed on Thursday that his club may try to lure Costa back to Vicente Calderon this summer while Real Madrid coach Zinedine Zidane is an avowed admirer of Hazard.
Hiddink declined the chance to respond to Cerezo's comments but believes Chelsea can curb any player disillusionment by acting decisively to recruit a new manager and quality signings this summer.
Asked if he could understand why Chelsea stars might consider moving in search of Champions League football, Hiddink replied: "It's also a matter of what the current club is showing in its philosophy and strategy and ambition.
"If you don't get one year in the Champions League but the club shows it is very keen on getting back lost ground, then there might be an attraction for players to stay where they are.
"Loyalty is secured by contracts. I don't think we can go back to the 1950s where you swear you will stay forever in a club. When the club shows that they have a new plan and a strong squad, then it can be attractive to those kind of players.
"You can't always be on top. Then you have to re-group and re-think your strategy."
Hiddink also insists he does not fear the prospect of losing players to the aggressive spending of Chinese Super League clubs, despite Jiangsu Suning following up last month's £25 million signing of Ramires with a £58m bid for Oscar that Chelsea turned down.
"In a certain part of your career it might be [attractive], but I know also that there were players who say, 'No, I'm not going to China' even though they were offered a huge amount of money," Hiddink added. "It depends on whether you are on the first part or the later part of your career."
Hiddink reckons China is an attractive option for many, but so too is the Premier League, which has a global appeal and will soon have a further influx of cash from the new broadcast coverage deal, which is worth £5 billion domestically.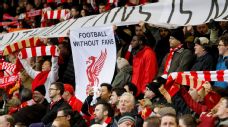 "Of course when you travel around the world, the Premier League is so attractive, attracting a lot of people," added Hiddink. "In the biggest cities to the smallest villages, wherever in the world there is a satellite showing Premier League.
"[And] clubs in England cannot complain about having no income in the near future."
The 69-year-old also admitted even he has been approached to manage in the Chinese Super League.
"I had some possibilities to go there in the recent past," said Hiddink, who did not expand on the comment.