Pep Guardiola won't control Prem as easily as other leagues - Guus Hiddink
LONDON -- Pep Guardiola will find it harder to dominate the Premier League as he has done with La Liga and the Bundesliga, according to Chelsea interim manager Guus Hiddink.
Manchester City stole the headlines on transfer deadline day by formally announcing that Guardiola will replace current coach Manuel Pellegrini on a three-year contract in the summer, ending months of speculation.
Guardiola has established a reputation as one of the most accomplished and innovative coaches in world football by building historically successful teams at Barcelona and Bayern Munich, but while Hiddink is an admirer of the Spaniard, he believes he will have to adjust to the unique challenge of English football.
"I think it's not big news," Hiddink said of Guardiola's appointment. "People expected it when he said he was leaving Bayern to go to the Premier League, which is a very attractive league especially for the younger managers.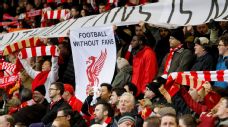 "He will face another league than he is used to. With the other clubs when he was there you have always this kind of domination by teams where he was, and no one can achieve what he did. This is a little bit different. He will get used to it.
"There is no specific favourite [in the Premier League] as there is in Spain with Barcelona and Madrid, or in Germany with Bayern, where you can be assured already in September who will be the new champion."
Guardiola's appointment has sparked reports that he is already making plans for next season at City, and Hiddink thinks that the coming months will help the Spaniard hit the ground running in the Premier League.
"I think it's not that difficult [for Guardiola to adapt] because they have a lot of time to prepare for the new year and they know the plans and you can adjust to that," he added.
"It's a new experience knowing that every week or three or four days there will be huge opposition. But he will be told and he is very experienced in his career. He has also the Spanish guys at Manchester City who are very experienced in this league."
Pellegrini is reported to be a leading candidate to take the Chelsea job when he leaves City in the summer and Hiddink was effusive in his praise of the Chilean.
"It's up to Chelsea to decide [whether to appoint Pellegrini]," he added. "What I think of him without meeting him or approaching him is I admire his approach of football, of the game, of his team. He is a well balanced manager and I respect him without knowing him at this moment."
Liam is ESPN FC's Chelsea correspondent. Follow him on Twitter: @Liam_Twomey.