Guus Hiddink: Up to Chelsea whether any Eden Hazard bid accepted
LONDON -- Chelsea interim manager Guus Hiddink has said Eden Hazard remains a key player for Chelsea and is backing him to bounce back after a disappointing campaign so far.
Belgium international Hazard was voted PFA Player of the Year last season after helping Chelsea to the Premier League title with 14 goals and nine assists.
But he has failed to score in 28 club appearances this year as the Blues' title defence collapsed.
Those struggles have led to speculation that Hazard could be allowed to leave at the end of the season if a bid of around £80 million is made by Paris Saint-Germain or Real Madrid, whose new coach Zinedine Zidane is a long-time admirer.
Hiddink said that whether any offer was accepted was "not up to me, it's up to the club" and added: "I think when Hazard gets his rhythm back in the upcoming weeks he is of big value to Chelsea.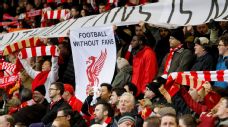 "I don't want to step on the philosophy or strategy of the club. It's up to them, but he's a very important player, a very good player with a style of play that's nice to see.
"He's had an injury so it's an unstable situation for two months at least. Hopefully he's coming back to what he was before, and then we can enjoy him."
Hazard is expected to return to the Blues' starting XI at MK Dons in the FA Cup fourth round on Sunday.
And Hiddink said: "He needs the training but also the game fitness. The fitness is important for him.
"If he's fit then he will be happy. When you see him in training he's happy to play, he enjoys it, but now he's hopefully coming within a few games to his physical level and then he will be eager to perform.
"I have huge hope [that Hazard can shine for the rest of the season], because beautiful times can come up for him and for the club in terms of what we are aiming at."