Chelsea's Guus Hiddink admires Arsenal's faith in Arsene Wenger
Chelsea interim boss Guus Hiddink believes Arsene Wenger may be the last of a dying breed.
Wenger is closing in on 20 years at the Arsenal helm, a landmark which comes in October, while, in contrast, the Chelsea manager's office could almost have a revolving door.
Unlike predecessor Mourinho, Hiddink avoided antagonising Wenger when asked about the Frenchman's position as boss of the Gunners and the nine years they had to wait for a trophy at the Emirates Stadium, where Chelsea play Arsenal on Sunday.
"I think he might be one of the last to sit on the chair that long," Hiddink said. "Him being in charge regarding those nine years without a title means there is a lot of confidence from the board. And from both sides to see they can go into a future where they are stable, although not winning every year a title.
"But there are many clubs fighting in England, it's very competitive."

Arsenal

Chelsea
Game Details
Wenger's Arsenal ended the trophy drought by winning the last two FA Cups, but Chelsea have won all the major honours in recent years despite repeatedly changing manager as owner Roman Abramovich still searches for his ideal boss.
The Dutchman spoke in general terms, but his comments could be applied to the Blues, who employed him in a caretaker role for a second time after Mourinho's departure last month.
Asked why Wenger's longevity might be a thing of the past, Hiddink added: "I don't know why. Maybe the instant result is required.
"It depends on the club, on the philosophy and the calmness of a club. It's always good to have men who are a long period in a club, to have them in very good management positions.
"That doesn't mean they have to be on the pitch always, but they can also be very good later in their careers as help for the buying and selling stuff of the club.
"Then you maintain a philosophy, strategy in the club, which I think is important.
"If you change -- and the manager has a lot of influence, let's say, on yearly or half-year basis to sign, not to sign, or to sell -- then that might cause a bit of irregularity in clubs."
It was put to Hiddink that, after renewed conflict across London under Mourinho, peace had broken out.
"Well, when the game starts there must be a lot of rivalry," Hiddink added.
"It's normal in sport, but outside that when people are decent you have to respect them and you have to respect their work."
As the Gunners battle for the title, Chelsea sit 19 points behind Sunday's derby opponents and closer to the relegation places than Champions League qualification.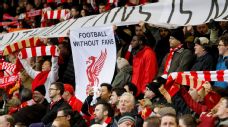 Manchester United and Liverpool have missed out on the top four in recent seasons, while Wenger's Arsenal have qualified for a place among Europe's elite for 18 consecutive campaigns.
"That's a big achievement -- and meanwhile getting a cup as well," Hiddink added.
Arsenal, though, have not won a Premier League clash between the sides in eight attempts, since October 2011, and Chelsea's chances are poised to be boosted by the availability of Eden Hazard and Diego Costa after their respective groin and shin problems.
Hiddink, who is undefeated in his second spell but has only two wins in six games, said: "Chelsea have recovered a bit from the recent period. We are not on top yet, we want to do more."