Kurt Zouma encouraged by Chelsea form after late draw vs. Everton
Chelsea defender Kurt Zouma believes that the defending Premier League Champions are slowly returning to form following their dramatic draw against Everton.
Chelsea looked on course for a 10th league defeat of the season when they found themselves 2-0 down in the second half at Stamford Bridge on Saturday and 3-2 down in injury time.
But they then got a stroke of luck as John Terry scored a 98th-minute equaliser from an offside position.
Zouma, 21, says the spirit Chelsea showed in that 3-3 draw is a sign that things are on the up.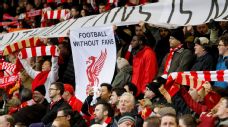 "We haven't lost in 2016," he told French TV show Canal Football Club. "So things are going well. We're getting there slowly. We're drawing games so it's a little difficult.
"But we're better than at the start of the season. We're losing fewer matches so it's encouraging for the rest of the campaign.
"Now I hope we can get a run going and win a lot of matches."
Chelsea are now unbeaten in seven games in all competitions since Jose Mourinho was sacked in December.
Zouma regularly supported the Portuguese coach during his last days at Chelsea and he says the change in fortunes is not simply down to the players being relieved to see a change of manager.
"I wouldn't say it like that," the France international said. "Things went well with Mourinho within the dressing room and they're going well with Guus Hiddink now.
"It's more the results. I think [the players] are responsible for what happened because we're the ones on the pitch and we played badly. I think we didn't do what was needed."
Next month Chelsea will take on Paris Saint-Germain in the Champions League round of 16.
The French champions are unbeaten in Ligue 1 and 21 points clear at the top of the table, and their minds are already turning towards the first leg in Paris on Feb. 16.
PSG are desperate to win the Champions League this season but Zouma says Chelsea cannot afford to be as "obsessed" about their next European fixture.
"Looking at where we are in the league it does [obsess us] a bit because it's still important to win a title this season," the former Saint-Etienne centre back said.
"So the Champions League definitely counts a lot for us. But we're not too focused on it [yet] because we have problems to sort out."