Chelsea striker Diego Costa suffered shin bone bruise against Everton
Diego Costa suffered a bruised tibia in Saturday's draw with Everton, though it remains to be seen how much time the Chelsea striker might miss.
Costa was sent for a scan on the shin after leaving the field at Stamford Bridge and the results show no fracture and just bruising.
However, it is not yet clear whether he will be available for Sunday's trip to Arsenal.
Chelsea's official website reported: "Scans have shown the injury suffered by Diego Cosa on Saturday was a bruise to his tibia in his shin and not a fracture.
"He was at the training ground for treatment on Sunday and it is not known yet whether the striker will miss the Arsenal game."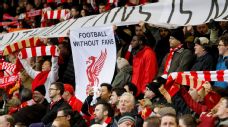 The 27-year-old Brazil-born Spain international reported for treatment at Chelsea's Surrey training base on Sunday, despite the squad being given two days' off by interim boss Guus Hiddink.
Costa scored Chelsea's first as the Blues came back from 2-0 down to level at 2-2, with John Terry's controversial last-gasp goal in stoppage time giving them a point from a 3-3 draw.
The former Atletico Madrid front man had scored just seven times since January 2015 before Jose Mourinho's departure last month, but Costa now has five goals in his last five appearances.
Loic Remy could start at Arsenal, with Radamel Falcao out since October with a thigh problem.
The latest injury to Costa could see Chelsea make a move for a striker in the transfer window, although whether the player they want or need is available in mid-season remains to be seen.
"Let's wait on the report. If the negative [happens], then yes, we start thinking in a very quick way," Hiddink said.
Hiddink on Friday suggested teams making signings in January were "desperate."
Chelsea have been linked with a host of strikers of late, including Jamie Vardy.