Ballon d'Or winner Lionel Messi could succeed 'anywhere' - Chelsea's Hiddink
Barcelona's Ballon d'Or winner Lionel Messi could succeed in the Premier League or anywhere else in the world because football is "so easy for him," according to Chelsea interim boss Guus Hiddink.
Messi, 28, claimed football's most prestigious individual award for a record fifth time at a gala in Zurich on Monday and confirmed his intention to finish his career at Barcelona, despite persistent speculation linking him with a move to a number of English clubs including Chelsea.
Hiddink was full of praise for the Argentina forward and believes the Barca star has no questions to answer about his ability to perform with another club or league, regardless of whether he goes on to retire with the Spanish giants.
Asked if Messi could shine in the Premier League, Hiddink replied: "Anywhere. He is out of order in his class. What I like very much is he's so eager to play. He gets angry if they want to rest him! He is playing as if he was 15 and taking the ball into the schoolyard to play.
"That's what I think it's all about in football. He's so excellent and it seems so easy [for him]. That's why it's nice to see."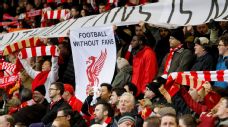 Arsenal goalkeeper Petr Cech and England manager Roy Hodgson both included Eden Hazard alongside Messi in their top three picks for the 2015 Fifa Ballon d'Or, despite the reigning PFA Player of the Year's failure to register a single goal in 27 appearances for Chelsea this season.
Hiddink has no doubt that the Belgium winger has the ability to return to the level of the world's best, but insists it is up to the player to overcome his physical problems and find a way back to top form.
"I think for the Ballon d'Or you have to establish yourself not just in one season but to get this reward for more seasons," Hiddink said. "Hazard is capable in the future but there are now other demands [for him to get back to his best].
"It's for me about freshness. If the man is eager to step up on training ground that's a signal of freshness. For him it's the same because he has won these [individual] trophies but this season he has had mostly physical problems.
"If you see freshness of players who have already won the Ballon d'Or many times, that's the same for him as well. He has to enjoy [his football] and get rid of his physical problems and then automatically he will come into his normal shape of play."
Asked if he would put an arm around Hazard to give him encouragement and confidence, Hiddink replied: "I'm not his mother. They [all] get the proper attention. It's all individually approached because one needs a lash, another one needs an arm, another one needs a pinch. It's different but you give him time to come back where he can play."
Hiddink also dismissed speculation that Brazilian winger Kenedy could be set to leave Chelsea on loan this month, with Fiorentina reportedly interested.
"We have some young guys who I've got to know better day by day," Hiddink added. "He's one of those young guys who will stay until the end of the season because we might need him or give him the chance to get more experience. He came in last game and he started well.
"I liked very much his penetration whenever he was able to do so, but you also see every now and then he was up and down and that's why they need to play. But I think they get a lot of experience on a daily basis to practise with the experienced guys. For the moment he will stay at least until the end of the season and maybe further on."