Chelsea's Diego Costa fit, Eden Hazard still out vs. West Brom
LONDON -- Diego Costa is fit to start for Chelsea against West Bromwich Albion on Wednesday despite limping off the pitch during Sunday's 2-0 FA Cup victory over Scunthorpe United, interim boss Guus Hiddink has confirmed.
Costa, 27, scored his fourth goal in three appearances since the departure of Jose Mourinho as Chelsea overcame League One strugglers Scunthorpe in the FA Cup third-round tie, but was replaced by Bertrand Traore four minutes from time at Stamford Bridge and left the field in visible discomfort.
Any serious injury to the Spain international would be a setback with Loic Remy and Radamel Falcao both short of full fitness, but Hiddink insists his first-choice striker has recovered quicker than expected in time to face West Brom.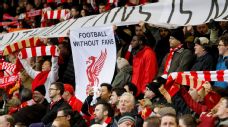 "Costa is OK," Hiddink confirmed. "He got a contusion on his knee, but not inside the joint happily. The day after the game he was eager to go onto [training] pitch already. I was amazed because he got a strong contusion but he's recovered very actively so he's OK."
When asked if he expected Costa to feature in his starting XI against West Brom, Hiddink replied: "I think so."
Remy could also be included in Chelsea's matchday squad with Hiddink confirming that the France international is once again training with the rest of the squad as he nears a full recovery from a persistent calf injury, but Eden Hazard is still training on his own as he battles a groin problem.
"Hazard was on pitch with the physios and the trainers [on Tuesday]," Hiddink added. "He is doing better and better but still not available. He's not with the group because he had a bit of a setback so we want to have him fit. It's what I said before -- better [bring him back] a little bit late than too early."
Chelsea remain 14th in the Premier League table after a disastrous first half of the season, 13 points adrift of fourth-placed Tottenham.
However, Hiddink insists the pressure to make a late charge for Champions League qualification will not prevent him giving more opportunities to Ruben Loftus-Cheek -- who impressed the Dutch coach with a goal against Scunthorpe -- and other talented youngsters at Stamford Bridge.
"I have no specific [points target] because it's very, very difficult [to reach the top four]," Hiddink added. "But it's also not an issue bringing in youngsters, because they must learn also to work under this pressure. As long as we have mathematically the possibility to get fourth place I will still not hesitate to bring in youngsters. But they must have the basic quality."