John Terry still fit for top-level football - Guus Hiddink
LONDON - Guus Hiddink is adamant that John Terry is still physically and mentally equipped for the rigours of top-level football as speculation over the Chelsea captain's contract situation rumbles on.
Terry played every minute of Chelsea's victorious Premier League campaign last season, but his form dipped significantly as the Blues' title defence crumbled into ruin from August to December under Jose Mourinho and, at 35, some have questioned the former England international's continued ability to compete.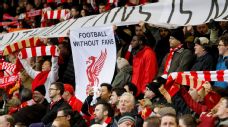 Speculation over Terry's future at Stamford Bridge has also intensified with the fact that his current contract expires in the summer. He has yet to agree an extension with Chelsea despite the fact that his performances have improved under Hiddink, who insists he has seen no signs of decline in the 35-year-old.
"I must say he looks physically fit but also what is important when you're halfway through a season is that he's very fresh -- and I mean fresh in the mind," Hiddink told reporters. "He's very eager to train every day, to play.
"Normally -- it depends a bit on the physical shape and genes -- but most of the time when players come to 32, speed is dropping down and everything is more difficult. There are exceptions, depending on position as well, but normally after 32 they drop from their top physical abilities.
"Of course one day the body will say 'hey, slow down a bit.' But I don't see any of that [in Terry]. I've not been asked [by the board for a recommendation on Terry's future] but these [experienced] guys are very important for Chelsea."