Chelsea duo Diego Costa, Oscar to face no action for clash - Guus Hiddink
LONDON -- Guus Hiddink has dismissed the training ground bust-up between Diego Costa and Oscar as a brief clash of "two bulls" and insists Chelsea will not take disciplinary action against either player for the incident.
The pair squared up and had to be separated by teammates during a training session on Thursday morning after Costa reacted angrily to a tackle from Oscar, but Chelsea sources told ESPN FC that no punches were thrown and the situation was quickly resolved, even becoming the subject of jokes as the players left the training pitch.
Oscar took to Twitter to play down the incident on Thursday evening and Hiddink reiterated the same version of events in his news conference ahead of Sunday's FA Cup third round clash with Scunthorpe United, revealing that the Brazilian issued an apology in front of the Chelsea squad that defused any tension.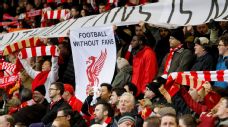 "It was a pity that our photographer had a day off yesterday because he could have shot beautiful pictures of two bulls who were chesting a bit after a charge from behind from the smaller of the two bulls, which was Oscar," Hiddink told reporters.
"[Oscar] made a charge from behind and it was overdone, especially when you know that Oscar is not the biggest tackler of the team. They stumbled over the ground, stood up as a normal reaction and chested a bit without any further seriousness, punching or whatever. It was more the threat of two bulls.
"We came in between but there was no need to say we had to grab them because I don't like when they hit. We had a really intense, very sharp training session that was right on the edge and these things happen.
"Oscar apologised in front of the group and then they started laughing. Jokes were made afterwards so it's normal -- well, not normal, but it's a battle that happens when you're used to playing in high intensity and if it's solved, it's solved."
Asked if Oscar or Costa would face disciplinary action, Hiddink replied: "No. Sometimes you go over the edge when there's a good emotion and intensity, but when you control it a few seconds or minutes later it's no problem at all."
Hiddink also took the opportunity to welcome outgoing Bayern Munich coach Pep Guardiola's declaration on Tuesday that he wants to work in England next season, intensifying speculation that Manchester City, Manchester United and Chelsea are all interested in appointing the Catalan in the summer.
"He got a lot of experience and made a lot of impact in the past seasons," Hiddink added. "I know him from my time as a player in Spain and as coach of the second team [of Barcelona]. I met him once or twice.
"The way he played is a way which many managers like in players and he has transferred that into very good coaching ability. When a coach with his attitude for modern, beautiful football is adding something to the game, why not?
"I'm not against anything but I also have the experience of young English managers who are working with me now and previously also, they are doing well also and have to be considered good young managers as well. Nevertheless, when extra quality can be added, it's welcome I think."
Liam is ESPN FC's Chelsea correspondent. Follow him on Twitter: @Liam_Twomey.