Eden Hazard 'very determined' to regain his best form - Guus Hiddink
Guus Hiddink is backing Eden Hazard to re-discover his best form in 2016, insisting that the Belgian is "very determined" to emerge from his prolonged slump.
Hazard won the PFA Player of the Year award as Chelsea surged to the Premier League title last season, but has failed to score in 25 club appearances this term with the Blues languishing in 16th in the table halfway through the domestic campaign.
Chelsea's nightmare run cost Jose Mourinho his job and Hazard was accused by some supporters of lacking commitment after he publicly clashed with the Portuguese in his final weeks, leaving the field with a hip injury during last month's 2-1 defeat to Leicester City.

Crystal Palace

Chelsea
Game Details
Ahead of Sunday's clash with Crystal Palace Hiddink has challenged his attacking midfielders to ease the scoring burden on Diego Costa and while he admits Hazard is not yet back to peak physical condition, the Dutchman insists his superstar winger's desire is beyond doubt.
"He has to find his way," Hiddink said of Hazard. "His character is quiet but very, very determined. I think he's very versatile to play in various positions. I hadn't experienced him as a coach but now I have in just a few days because he was injured. He came back with a strong character.
"He wanted to play the last games and part of the Watford game although he had only trained for three days before, which means that he is very eager to perform and get back to his shape. Normally a player comes from an injury in the recent past and they like to take some time to get back into good physical shape.
"He is eager to play and as a consequence I think he can go to the performance level we are used to. You saw at Old Trafford that he had a very different game [as a false No. 9]. They were searching for him and he reacted very well. He's very strong in his character."
Hazard played as a false nine in Costa's absence at Old Trafford and was fouled six times -- more than any other player on the pitch -- but when asked if he objected to United's tactics, Hiddink replied: "They are allowed to do so within the rules, and I'm not suggesting it was outside the rules.
"Because he shows a lot of danger, people get very alert when he's going, which means also that the other players have to take even more [responsibility] when they're focusing on him."
His progression under Mourinho prompted the Portuguese to hail Hazard as "the best young player in the world," but Hiddink is wary of discussing the Belgian within the context of Ballon d'Or winners Lionel Messi and Cristiano Ronaldo.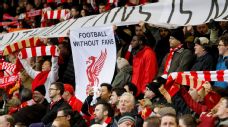 "He can cope with it but I don't think it's not always fair to make comparisons," Hiddink added. "Of course he's a fantastic player but he's a different player also. It's difficult to compare and say 'You are on their level.' I've experienced him now and he's a fine player."
Hazard, meanwhile, insists he is happy to reprise the false nine role he carried out at Old Trafford if it enables him to help Chelsea start winning again.
"I prefer to play on the left wing but if I have to play up front, why not?" he told Chelsea's website. "It just means I need to come a bit deeper to get the ball at my feet but I enjoy it. It's the same, my job is always to try to make the difference."