Eva Carneiro lawyers to handle Chelsea exit - Football Medical Association
The Football Medical Association (FMA) has confirmed Chelsea team doctor Eva Carneiro's lawyers will handle her case after she parted company with the club.
Carneiro was reported to have parted company with the Blues in the wake of the incident on the opening day of the season when she was criticised by manager Jose Mourinho for going on to the pitch to treat Eden Hazard.
The FMA -- the body for medical staff in the game -- has been representing Carneiro in negotiating with Chelsea and says it is "extremely disappointed" she will not resume her full duties.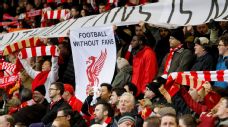 A statement said: "The FMA is extremely disappointed that Dr Eva Carneiro will not be resuming her full duties as first team doctor at Chelsea football club.
"As the representative body for medicine and science personnel in the professional game, the FMA aims to protect the rights of its members.
"Having recently been contacted by Eva, we have offered our full support in attempting to negotiate a satisfactory outcome.
"Unfortunately this has not resulted in our preferred outcome. Chelsea considers this now to be an internal matter and it is for Chelsea and Eva's appointed lawyers to discuss any further action."
Professional Footballers' Association (PFA) chief Gordon Taylor says players' health should not be put at risk if team doctors feel any reluctance to go on the field in the wake of Carneiro's departure.
Taylor said the system -- where referees and players judge whether to call doctors onto the pitch -- worked well. Mourinho was unhappy with Carneiro because it meant Hazard had to leave the field and Chelsea were temporarily down to nine men. As a result she was dropped from first-team duties.
Taylor told Press Association Sport: "The health and safety of our members is of paramount importance and the need, when required, for prompt assessment and treatment is critical in ensuring this.
"The player and the referee are the initial judges as to whether treatment is required and, the matter is then the responsibility of the highly qualified and trained medical staff.
"This protocol has worked successfully in past seasons and we can see no justifiable reason to move away from this."
FA board member Heather Rabbatts, the chair of the FA's inclusion advisory board, has expressed her "anger and sadness" at news of Carneiro's departure from the club.
The incident against Swansea saw head physiotherapist Jon Fearn also go onto the pitch and Mourinho said at the time: "I was unhappy with my medical staff. They were impulsive and naive.
"Whether you are a kit man, doctor or secretary on the bench you have to understand the game."
Chelsea said they could not comment on internal staffing matters.