Everton boss Martinez unhappy over Kevin De Bruyne goal for Man City
Everton boss Roberto Martinez said it was "clear" that Kevin De Bruyne's equaliser for Manchester City should not have been allowed after his side missed out on a place in the Capital One Cup final with a 4-3 aggregate defeat.
Everton, leading 2-1 from the first leg, extended their advantage through an early Ross Barkley goal at the Etihad Stadium on Wednesday.
However, Fernandinho reduced the deficit on aggregate with a deflected goal before De Bruyne made it 3-3 on aggregate in the 70th minute after Raheem Sterling appeared to have taken the ball out of play.
Sergio Aguero headed home the winner for City soon afterwards, but Martinez said the equaliser had been the pivotal moment in the semifinal.
"It was a really good game of football, we were very strong in the performance, but goals are big calls and the second goal is heartbreaking," Martinez told Sky Sports.
"When you watch the replay it is incredible that you don't get that decision right and, you can go into many aspects of the performance, but goals were going to be very important, we knew that.
"It's impossible to describe how you feel when you see the decision once more, it's so clear and so big in how the game was developing -- it's heartbreaking.
"I don't think anyone in the stadium would disagree -- that goal was the major change in the tie."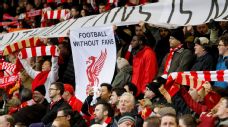 Sterling told Sky Sports he did not know if the ball had gone out of play.
"I was only interested in the ball hitting the back of the net," the England international said. "I wasn't looking if the ball was out or not.
"The most important thing is we got the luck this time. Last time we didn't get a penalty, this time it might have been out but we scored and we're in the final."