Brazil legend Pele undergoes 'small' procedure on surgically replaced hip
Three-time World Cup winner Pele underwent a small operation to repair a hip replacement he had in 2012, according to the Brazilian's long-time press officer Pepito.
Pele, 75, had the procedure in New York at the Special Surgery hospital on Dec. 3, and is in the process of rehab, with "everything under control."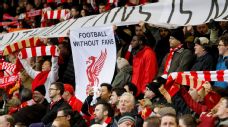 "[Pele] took advantage of his holidays to spend time in New York with his daughters and granddaughters and he had this small reparatory procedure," Pepito told Reuters.
The Brazil legend has had other health issues since having his hip surgically replaced, including being hospitalised for a urinary tract infection in 2014 that kept him in the hospital for two weeks.
The former Santos and New York Cosmos striker also had one of his kidneys removed in the 1970s while he was still a player.