Borussia Dortmund tennis ball ticket price protest at Stuttgart is explained
Borussia Dortmund fans were protesting against football turning into a sport for businessman by throwing tennis balls onto the pitch during their DFB-Pokal tie against Stuttgart.
Around a third of the club's travelling fans boycotted the first 20 minutes of the 3-1 victory at the Mercedes-Benz-Arena.
When finally entering the stands, supporters threw tennis balls onto the pitch and caused a short suspension of the match as players helped to remove them from the playing field.
"We have a German saying: 'Das ist ganz grosses tennis!', it roughly translates to 'that is great tennis,' and, in an ironic kind of way, the prices at Stuttgart are great tennis," Marc Quambusch, a spokesperson for the Kein Zwanni (No to €20) campaign responsible for the protests told ESPN FC.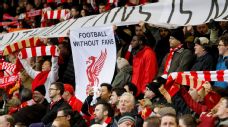 "Should the price hikes continue like that, only tennis fans will show up in the stadiums."
Some 6,000 tickets were allocated to Dortmund, with 1,200 standing tickets priced at €19.50. But the cheapest seats were €38.50 with 1,500 tickets priced at €70 for the most expensive.
The match had been graded in the highest price category, like Stuttgart's league games against Dortmund and Bayern Munich. Dortmund officially complained against Stuttgart's prices, but argued that they have remained unchanged since the 2012-13 season.
The tennis balls protests have been received with a mix of amusement and incomprehension in the German media, and Quambusch said: "Of course, people feel disturbed when you disrupt their event. And that's a good thing. It's a way of civil disobedience."
When asked about the lack of understanding for their protests outside of Germany, where Bundesliga is perceived as a league where tickets are still affordable, Quambusch replied: "Indeed, the prices of standing tickets are very low compared to the cheapest tickets in England. But there aren't many standing tickets, and the prices for seats are not far from those in England by now."
Initiated by Dortmund supporters in 2010, the Kein Zwanni movement begin in protest at away standing tickets being priced above €20. It was soon backed by other clubs, but sporadic protests in the past have mostly been staged by Dortmund supporters.
"It's just that Dortmund and Bayern supporters are affected by the prices more than others," Quambusch said, pointing out that the two clubs are regularly banded in the highest price category. "But low prices are of interest for everyone."
Prior to the match, Dortmund coach Tuchel feared that the lack of support could become a problem for Borussia Dortmund, but they scored in the opening minutes of the match and conceded a goal only minutes after the fans took their places.
"I guess that means we'll have to abandon the stands from now on!" Quambusch said with a smile.