Pierre-Emerick Aubameyang aware of Dortmund somersault celebration risk
Borussia Dortmund attacker Pierre-Emerick Aubameyang has told Sport Bild he is aware that his somersault celebrations are "not harmless" after being urged to stop by Gabon's Football Association and medical experts.
Gabon international Aubameyang, 26, has hit 18 goals in 18 Bundesliga games for Dortmund this season, and celebrated several of them with a somersault.
But Sport Bild reports that the forward has now been warned that his trademark celebration could seriously affect his health.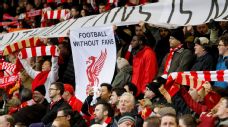 The German sports weekly said that at the African Footballer of the Year awards in Nigeria earlier in January -- where Aubamayang took home the top prize -- the president of Gabon's FA, Pierre-Alain Mounguengui, told him to do without somersaults in the future.
"I know that it's not harmless," Aubameyang was quoted as saying by Sport Bild. "That's why I only do it when I feel really well. As if I could fly."
The in-demand forward -- who has also celebrated by donning a Spiderman mask in the past -- added that his granddad has already told him that he's taking a major risk by acrobatically celebrating goals.
Bernd Kabelka, a Hamburg-based professor, warned Aubameyang that the somersaults can cause serious damage if the celebration goes wrong.
"The most harmless thing which could happen is a muscle tear, but should the landing not be perfect he could also tear his Achilles tendon," he told Sport Bild.
"In the worst case he lands on his cervical spine, and this could lead to paraplegia."
Kabelka added that while a somersault might be safe for other athletes, footballers have to be more than careful, saying: "In stark contrast to a gymnast, a footballer does not focus on the somersault while celebrating.
"He is tired and worn-out. A gymnast has not played 70 minutes of football before his somersault!"
But world-class German gymnast Florian Hambuchen told Sport Bild that celebrations such as Aubameyang's "are pure emotion," and that the striker has shown all the skills required for a perfect somersault.
"His somersaults look great; I'd only urge him to not crouch down too deep on landing," Hambuchen said.
Aubameyang's form has seen the forward linked with a big-money move away from BVB, but the club's CEO Hans-Joachim Watzke said earlier this week that the African Player of the Year would not be sold even for a €100 million offer.