Borussia Dortmund's Sebastian Kehl looking to retire on a high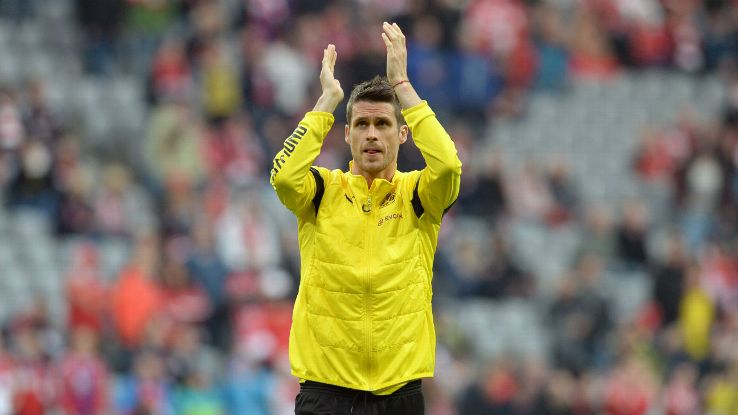 Borussia Dortmund midfielder Sebastian Kehl has said he wants to end his career on a high and then take a six-month break from football before deciding his next move.
Kehl, 35, is set to retire from professional football this summer but is hoping to sign off with victory in the Bundesliga clash with Werder Bremen before securing success against Wolfsburg in the DFB Pokal final.
The former Germany international has made 313 top-flight appearances for Dortmund and Freiburg over the course of his career, in addition to a further 32 second-tier games for Hannover.
The former Dortmund captain could add one more Bundesliga match to his tally on Saturday when Dortmund take on Bremen in the final match of their turbulent season.
Following a disastrous first half of the campaign, Jurgen Klopp's men hit rock bottom in early 2015, but they have since jumped to seventh in the table. That would be enough to secure Europa League qualification, and -- as eighth-placed Bremen are their only rivals for seventh -- BVB only need a draw to book their place.
On May 30, they take on Wolfsburg in the cup final in Berlin, and Kehl told reporters: "You couldn't have written a nicer script. We have two finals, and have the chance to turn a disjointed season into something positive."
Klopp will also be departing this summer, and Kehl expects emotional scenes for the Dortmund coach's final game at the Westfalenstadion.
"I know how the people have come to love Klopp over the years," Kehl, who joined Dortmund from Freiburg in January 2002, said. "It will hopefully be an outstanding day for the two of us."
With less than two weeks left as a professional footballer, Kehl has yet to make plans for his future career.
"I will take a break from it all for the rest of the year," he said. "I need to gain clarity over what I want to do next. I don't want to directly dive into something new, whether that be at club level or working with players or companies."
Kehl, who made his debut as an 18-year-old for Hannover in 1998, added: "A life of freedom will be quite a revelation."