With the summer transfer window now open, join us for the latest updates from across Europe.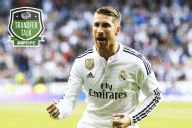 Find all completed transfers here if you're looking to catch up with the latest deals.
TOP STORY: Chelsea stand firm on Remy and Luis
Despite closing in on a move for Radamel Falcao, it seems Jose Mourinho is not about to let Loic Remy leave Stamford Bridge in a hurry.
The 28-year-old France international was widely expected to be allowed to leave West London considering Falcao's imminent...