With the summer transfer window now open, join us for the latest updates from across Europe.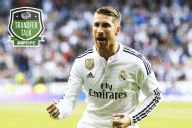 Find all completed transfers here if you're looking to catch up with the latest deals.
TOP STORY: Ramos wants United move
With each passing day the Sergio Ramos saga takes a convoluted new twist. The Guardian reported two days ago that the defender had told Real Madrid he wanted to leave the Spanish capital for Old Trafford, though the 29-year-old's mother followed that up by stating that Ramos...