Dunga's return to Brazil is complicated
Carlos Dunga was announced on Tuesday as a hardly surprising case of returning Selecao manager. The surprise will not be the pattern -- after all, Brazil have previously rehired 12 coaches, the most recent being 2002 World Cup winner Luiz Felipe Scolari -- but the immediate bending to the calls for a change in philosophy following the team's disastrous World Cup campaign, especially the 10 goals conceded over the final two games.
In Dunga, they might have one of the best managers the Selecao have ever had in terms of winning percentage; on his watch, the team won 49 of 68 games between 2006 and 2010. The problem is that out of the seven meager losses Dunga suffered, the 2-1 elimination at the hands of the Netherlands in South Africa 2010 sticks out like a thumb crushed by a mallet. Not because of the result itself, but because of the way his players collapsed psychologically and his inability to regroup them. Not to mention the pragmatic brand of football that would later be used as an example of how Brazil needed to get back to their fantasista roots.
Evidently CBF president Jose Maria Marin thinks otherwise, and Dunga will have a chance to resume his dream to follow the steps of fellow countryman Mario Zagallo and German legend Franz Beckenbauer as the only men to lift the World Cup as a player and manager.
- Dunga is manager of Brazil for a second stint
But the 1994 Selecao captain is hardly what people in Brazil reckon the national team needs now. A Globo TV poll reveals 85 percent of the population opposes Dunga's impending appointment. A pinch of salt is needed, though. Dunga engaged in a fierce and public war against the television station in his previous spell, and how media executives and the new manager will get along is one of the subplots in what already promises to be a soap opera.
After all, Dunga's penchant for a siege mentality makes Scolari look like a pacifist. Hardly a democrat, the former captain became famous for the lack of diplomacy peppered with a messianic devotion to the so-called "power of the yellow shirt."
After taking over in July 2006, Dunga immediately declared the team jersey, rather than individuals like Ronaldinho and Kaka, to be the star of the team. At the time, the speech rang a lot of bells given how France unceremoniously dumped a star-studded Selecao from the World Cup in Germany. Eight years later, that talk would sound as outdated as Scolari's "brilliant" game plan to face Germany at the Mineirao.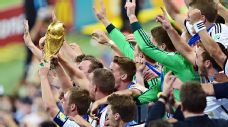 Dunga's time at the Selecao was hardly a failure. Under his guidance, Brazil won the 2007 Copa America and the 2009 Confederations Cup and topped the South American qualifiers for the first time since the current league format was created. They also beat Argentina at home for the first time in more than a decade. But in stylistic terms, his team was never a winner and it resented adaptability.
The then-manager's dismissive attitude toward a certain skinny kid with spiky hair was the talk of Brazilian football when Neymar was denied a place on Dunga's 23-man squad for South Africa. Neymar will again be a talking point, but in a very positive way this time, as whoever watched the World Cup can attest.
One should also add that Dunga's career has hardly flourished since his time as Brazil boss ended. He has since managed Brazilian club Internacional for less than a year, and the only other reported serious offer came from the Venezuelan national team.
- Young: Brazil wait for change
Funnily enough, Dunga is not the problem here. The appointment of former goalkeeper Gilmar Rinaldi as team director looked puzzling not only because of his lack of managerial experience but also because until last week he was an agent. CBF's arcane handling of the national game, represented by a league with falling attendance and the daunting perspective of playing in empty new stadiums, also comes to mind.
Since being humbled by Die Nationalmannschaft, Brazilians have spoken relentlessly about the changes in the German game that nudged Philipp Lahm & Co. toward the country's first world title since 1990. There hasn't been a cull of old directors taking places at their FA, which has had only 12 presidents -- nine fewer than the CBF. Brazil now will also have their 54th managerial change compared to just 10 in Germany.
But never have the two countries looked to be on more opposing points of football's evolutionary line, especially when comparing their approaches to youth development and the internal game. CBF's strong grip on every aspect of football in Brazil has never looked so poisonous than when one remembers the same entity that shows a $200 million turnover is arguably incapable of properly maintaining a three-division national league.
Thus, the thought that Brazil could be digging itself an even deeper hole with Dunga's appointment will be in people's minds from day one -- even if he might be the last one to receive blame for the state of the sport.
Good luck, Dunga. You're going to need it.
Fernando Duarte is a U.K.-based Brazilian football expert who has reported on the Selecao for over a decade. Follow him on Twitter: @Fernando_Duarte.