Eight men who could replace Scolari
The Brazilian Football Confederation seems to be in no rush to appoint a successor to Luiz Felipe Scolari and handle the aftermath of their latter stages implosion at the 2014 World Cup. Hence the more frantic than usual speculation about the new gaffer, this time enhanced by rumors that even a foreigner could be considered. Let's have fun with some names.
Tite: The former Corinthians manager -- aka Adenor Leonardo Bacchi -- pops up inevitably thanks to a very decent CV that includes the Libertadores Cup and World Club Cup titles with Corinthians in 2012 and the fact he has refused to take any offers in the past few months. A good home-grown bet in a desert of "wow" domestic names.
Muricy Ramalho: He's hailed by the likes of Zico thanks to being one of the most successful managers in Brazilian football in recent years. However, Ramalho is seen as a pragmatist. Besides, he turned down the job four years ago, and that hardly went well.
Abel Braga: A former Paris Saint-Germain defender and Olympique Marseille manager, Braga has won national and international titles in a plethora of Brazilian clubs, the most recent the 2012 Brazilian Championship with Fluminense and Fred. A very outside bet.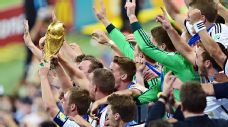 Jorge Sampaoli: Before the whole handbags at dawn with the Brazilian technical staff during a recent World Cup encounter with Chile, the Argentine manager would be a favorite in case of a foreign appointment. His emotional attachment to Chile and their upcoming hosting of Copa America are also obstacles.
José Pekerman: A respected name in South America whose work with Colombia did not go unnoticed in Brazil. Like Sampaoli, however, an Argentine and the history between the two countries in football could be a bit of a problem.
Alejandro Sabella: If rumors are to be believed, the man who took Argentina to the World Cup final has already been approached by CBF. Unlikely, but having played in Brazil briefly in the 1980s would make his case a tad different.
José Mourinho: Spanish paper Marca reported "The Special One" has received queries about the Seleção job. The fact he reportedly earns 10 million euros per season at Chelsea -- three times more what Felipão received for the Brazil job -- is already a problematic start for any conversations.
Manuel Pellegrini: No. Way. And here's why.
Fernando Duarte is a U.K.-based Brazilian football expert who has reported on the Selecao for over a decade. Follow him on Twitter: @Fernando_Duarte.