Rating the World Cup's innovations
We have a new world champion, but that's not all. The footballing legacy of World Cup 2014 is undoubted, but some of the on- and off-pitch innovations we saw during the month might just stand the test of time, too. Here, we review and rate the five most eye-catching additions to the tournament ...
Innovation: Vanishing Foam
There was something vaguely pleasing about seeing footballers stand to order while a schoolteacher-like referee walked along the defensive wall and, in something visibly similar to shaving foam, marked out their limits. Sometimes it was curved neatly around where the ball should be kicked from, too. The mere sight of the can seemed deterrent enough: instances of encroachments were few, although they'll never be eradicated completely; a simple visual cue was seemingly enough for the vast majority of World Cup participants to shape up and shut up.
The spray's cult was cast in stone when it inspired a Google "doodle" on July 8. It wasn't entirely consistent: some of its lines were straighter and more pleasing to the eye than others; once or twice it flecked onto a player's perfectly-tanned boot; sometimes it bubbled up to the extent that you feared being transported to a foam party at a nightclub. By and large, though, it did its job -- and inventor Heine Allemagne now looks likely to become a very rich man indeed.
Not that it was omnipotent: despite its best efforts to cut out the time-wasting and stagey commotion that uniformly accompanies set pieces, ball-in-play figures were not really improved. It also didn't do much to assist the generally poor quality of players' long-range shooting despite offering them greater space in which to set their sights. But the thought was there and that, surely, counts for something.
Verdict: Hit! It still looks and feels a bit strange, and its novelty-comedy value might not expire for a while, but the level of compliance it inspired was impressive.
Innovation: The Brazuca
This was, from the outset, a ball with a difference. This was a ball developed to within an inch of its life in order to thrive in the unique climate in which it would be operating during Brazil 2014. This was a ball whose green and gold swirls spoke to millions worldwide. This was a ball with a Twitter account.
You almost hoped that the Brazuca would receive more criticism than it did simply to see whether its relentlessly upbeat, cheeky social media personal might crack a little. It's certainly hard to imagine the embattled Jabulani of 2010 getting away with calling itself a "World Cup legend" or summoning the sangfroid to tweet "Squeaky valve time" as the final neared its climax. But having breezed onto the scene full of gusto with its first-ever proclamation back on Dec. 3, the ball justified its self-confidence.
FIFA had been keen to make it known that the ball's design, with fewer panels among less-translatable tweaks, was intended to remove the unpredictability seen in South Africa, and so it -- largely -- proved. Igor Akinfeev's calamitous fielding of long-range shots in Russia's first match against South Korea might have placed the spotlight firmly on the ball in other years, but his was simply an individual disintegration.
The overall quality of efforts from distance was, particularly in the group stages, poor -- but again, the Brazuca received far less scrutiny than the footballers' technical shortcomings. And quite rightly: this was, by recent standards, a ball that stayed hit; a ball that didn't use the slightest excuse to wobble as soon as it met the laces; a ball that could reasonably say it had contributed positively to James Rodriguez's and David Luiz's wonder-goals, to name but two. Its 645 tweets confirm that, like the Jabulani, it had a life of its own -- but in an entirely different sense of the phrase.
Verdict: Hit! But this trend for talking balls can't be allowed to continue ...
Innovation: Goal-line Technology
It all seemed a bit much at first -- like a prodigious new kid at school who's just too keen to impress. Replays "proving" that the ball had crossed the line were an unfathomable feature of the World Cup's early games, although there is a small, dorky satisfaction in seeing goals rendered by computer matrices. Once television editors realised that this cut little ice, the way was clear for goal-line technology to be ... well ... barely relevant to the tournament.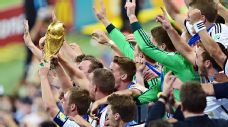 The only real moment of excitement came in France's win over Honduras, when the hawk-eye technology accurately ruled that goalkeeper Noel Valladares had scored an own goal to put the French up 2-0. A subsequent on-screen replay that showed the sequence of events in stages, beginning with the ball hitting the post and flashing "No Goal," caused some mild consternation and revived memories of Argentina's win over Mexico in 2010, when stadium screens showed clearly that a Carlos Tevez goal should have been ruled out just as the game was about to restart. But that was all cleared up quickly enough and, as you would ordinarily expect, further occasions for controversy were limited.
Bar a minor flutter of interest in the fate of Ron Vlaar's missed penalty in the semi-final shoot-out (there was, briefly, a school of thought that it had spun back and crossed the line), there were few further calls for the goal-line radar to determine anything.
Verdict: Hit and miss. It clearly works and plainly won't be needed all that often -- but work needs to be done on its presentation.
Innovation: Drink breaks
This World Cup was always going to be exhausting, and FIFA had ruled that three-minute time-outs could be granted in the 30th and 75th minutes of games played in temperatures of over 32 degrees Celsius (89.6 degrees Fahrenheit). The first such pause arrived during the first half of the 2-2 draw between the U.S. and Portugal in the group stage, given at the referee's discretion in the famously humid environs of Manaus (66 percent on the night), although it lasted less than a minute.
The real interest came during the Netherlands' round of 16 win over Mexico. Played at what was sometimes walking pace in Fortaleza -- the conditions were such that supporters virtually emptied the areas of the stadium that lay in direct sunlight -- this was the first match to see the three-minute breaks implemented. Did it do more than rehydrate the players?
"It was during the cooling break that I started with the plan B," beamed Louis van Gaal afterward as his shape-shifting of the Dutch side eventually bore fruit with a late comeback. Van Gaal went on to explain that he had planned in advance to use the cooling breaks to disseminate his tactical changes, the second of which saw him throw on Klaas-Jan Huntelaar and opt for a more direct approach.
It was laudable forward thinking, although Van Gaal was keen to play up his wizardry throughout the tournament and would doubtless have found a way to get his message across in any case. How important the three minutes themselves were tactically is difficult to know, but coaches would doubtless welcome similar windows after this.
On the debit side, there is surely an argument that they were not used enough. The early skirmishes in Manaus were a case in point: when Italy's Claudio Marchisio complained of "hallucinations" after the win over England, something can't have been right. And the wilting of several sides as games went on -- Croatia a notable example during their 3-1 defeat to Mexico -- suggested the conditions had taken their toll.
Verdict: Hit and miss. Good for players and, seemingly, for coaches -- but they should have been adopted more regularly.
Innovation: The Golden Ball Vote
Votes for the World Cup's best player used to be cast by those members of the media who had spent a month racking up the air miles. They would receive a shortlist drawn up by FIFA's technical committee and pick their favourite. Previous winners such as Diego Forlan and Oliver Kahn caused little rancour -- although the timing of 2006 winner Zinedine Zidane's late disgrace in the final was certainly unfortunate -- and the system seemed a sound one.
This time around, the journalists' views were dispensed with and the technical committee cut straight to the chase: the decision was theirs and theirs only, and their choice was Lionel Messi.
It's dangerously fashionable to deride Messi due to the standards we've set for him: he was very good indeed for most of this World Cup but not quite its best player, and that means any supposed privileging of his cause will always be come down hard upon. But he had made little sustained impact after the group stages, and even if James Rodriguez's golden boot meant that the individual prizes needed to be shared around a little, surely people like Manuel Neuer or the second- and third-placed players, Thomas Muller and Arjen Robben, were more deserving bets.
The picking of Messi just seemed too "obvious," whether or not it was the sop to sponsors that has been claimed, and when even Sepp Blatter is politely disagreeing with it -- "Listen, I was myself a little bit surprised when I saw Messi coming up for the Golden Ball," he said afterward -- you have to think FIFA's judgment was flawed.
Verdict: Miss. Give it back to the press!