'Marginal' Schweinsteiger proves vital
Before Joachim Low and his players left for Brazil at the beginning of June, the Deutscher Fussball-Bund presented the squad with a good luck charm. It was a shirt signed by all of Germany's World Cup winners to date. Prior to each of their games over the next month, the kit man would unpack and hang it up in the dressing room as a source of inspiration. Trivial though it may sound, earning the right to scribble their own autographs on that white, black and red jersey attained a meaning within this group.
Late on Sunday night, Bastian Schweinsteiger entered the mixed zone at the Maracana wearing it. "We haven't yet voted on who gets to keep it," he said. "I thought it was cool." And it most certainly was, in a meta kind of way: the talisman as worn by a talismanic figure for Germany. To think as well that Schweini had been termed "Die Randfigur" -- The Marginal Figure -- by magazine 11 Freunde after Die Nationalmannschaft opened their World Cup campaign by routing Portugal 4-0 in Salvador without him on the pitch.
They remarked how he had sat at the very end of the bench -- "as far as possible from Low." Did it symbolise a slide down the pecking order? "What will become of him?" the magazine asked. "What would be the added value to the team?" They didn't see how Schweinsteiger could get back into it. "Lahm sees the game like no other, Khedira is the better tackler and Kroos has the ability to speed up the game with his irresistible passing."
As a judgement, it seemed rushed, but questions about Schweinsteiger had been raised before the tournament. In an article titled "The End of a Football God," a Sport Bild columnist claimed he was "too slow" and "too inflexible" for Pep Guardiola's system at Bayern Munich. With the revolution expected to be more radical rather than in retreat after the Catalan's first season, would he be a casualty?
By now, however, Schweinsteiger is used to being written off. He has overcome it before and can do so again. Contrary to the speculation, Low wasn't leaving the 29-year-old out in the cold. He was allowing Schweinsteiger time to recover and get fit following a series of patella tendon injuries and other niggles this season. Not prepared to let his own body limit him or the pain to put up insurmountable barriers to his place in the team, it would be a case of mind over matter.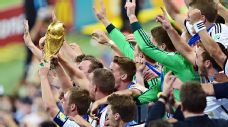 On the eve of the tournament, Schweinsteiger had spoken at length to Bild on the subject of willpower. To him, this attribute in particular had been central to Germany's successes in the past. The players who'd signed that shirt all had it. "There are, for example, many incredibly good technical young players who have all the tricks and can do 1,000 kick ups," Schweinsteiger explained, "but most of them still don't make it to become professional footballers. Talent is not enough. You need absolute belief and great perseverance to get to the top."
That's the difference. "Because although we have become technically perfect footballers in Germany, without passion and willpower -- our typical German virtues -- we will not win anything in Brazil. It is a tournament of willpower." As a kid coming through at Bayern, Schweinsteiger recalls his youth coach Hermann Gerland demanding that his players eat grass. "What he means is that you have to be willing to cover meters for your teammates. Meters that hurt."
Schweinsteiger didn't have to look far to find exemplars of that philosophy at Sabener Strasse, Bayern's training ground. Jens Jeremies in particular made a strong impression on him. "I can still remember him playing in the 2001 Champions League semifinal against Real Madrid with huge knee problems, putting his health on the line for the team because his will to get to the final and win the title was so great," recalled Schweinsteiger. He would make the same effort in Brazil, the same hard yards. L'Équipe considered his performance in the final "heroic."
With Sami Khedira tweaking his calf in the warm-up, the responsibility on Schweinsteiger's shoulders only grew. Stand-in Christoph Kramer was making his first start of the tournament. He'd need talking through it, though the Borussia Monchengladbach youngster soon had to go off after sustaining a concussion and can't remember any of the first half. Toni Kroos also did not perform to the standard he'd set against Brazil. Instead of providing for his teammates as he'd done over and over again in the semifinal, this time he put Gonzalo Higuain through with a wayward header. Luckily for him, the Argentina forward missed.
While some around him were losing their heads, Schweinsteiger kept his projecting an aura of calm and assurance. A warrior to the end, he remained cool even in the heat of battle. More passes were completed via his "Chosen One" labelled boots than anyone else on the pitch and yet Schweini wasn't content to let the ball do all the running. An inner voice, Gerland's voice, told him to eat grass and he did, clocking up 15.3km.
Rather than a football game, Suddeutsche Zeitung thought Schweinsteiger was competing in an Ironman triathlon. "He gets up again and again, with blood on his face, with cramp in his legs." Blood from the cut under his eye opened up by a clash with Sergio Aguero. Cramp after forcing Messi out wide and away from danger again and again. Schweinsteiger was immense and when the final whistle went at the end of extra time, one couldn't help but admire his spirit.
They say a measure of someone's character is how they respond to setbacks. Schweinsteiger has had to react to more than most. On the losing side against Inter in the 2010 Champions League final, he missed the last penalty in the shootout that decided the 2012 edition as Bayern capitulated to Chelsea in front of his own fans at the Allianz Arena. Some players never come back from that, nor do they get the opportunity to. But Schweinsteiger returned a year later to win it.
On the international stage too, he has had to come to terms with it maybe never happening for him. Knocked out by Italy after extra time in the 2006 semifinal, an unhappy ending in Dortmund to "the summer's tale," Germany lost to Spain in the Euro 2008 final and the 2010 World Cup semifinal before succumbing to Italy again in the last four of Euro 2012. Involved in all of them, Schweinsteiger's career could have been distinguished by the same lack of fulfilment and near misses that characterised Michael Ballack's -- a runner-up in the 2002 Champions League and World Cup finals [he missed the latter through suspension].
Instead through great determination and resolve, it is complete. Schweinsteiger has written his name in history. Now, he can pen it on the shirt.
James covers the Italian Serie A and European football for ESPN FC Follow him on Twitter @JamesHorncastle.