Germany's win validates new model
"Nobody deserved it as much as we did," Joachim Low said on Sunday night, about an hour after his team had won the World Cup. The fans watching the interview at home couldn't have agreed more, as they knew exactly what he was talking about.
He wasn't talking about the final or the tournament. He was talking about the last eight years. When Low added, "It was due," his listeners thought back to the painful semifinal defeat on home soil in 2006. They also remembered the single goal that decided the Euro 2008 final against Spain.
Then they thought about 2010, when the most enjoyable German team in living memory narrowly missed the final. And of course Euro 2012 and yet another lost semifinal was still fresh in their minds. That's why they all nodded when they heard the national coach. Yes, nobody deserved it as much as the Germans did.
Germany
Argentina
Game Details
But what about the rest? What about all the other, less tangible things people from other countries have been asking us German writers and journalists about during this tournament? What about the symbolism, the hidden message? In brief: What does it all mean? Nothing. It's just football, folks.
I can't even count the times I have been asked if this new, young, multicultural team stands for a new, young, multicultural country. It's a good question, because it's not as if this element never played a role. It was certainly on many people's minds when the under-21 side won the European Championship in 2009. Six players from that team were also on the pitch in Rio on Sunday night, as Wolfgang Niersbach, the president of the German FA, proudly pointed out.
More important, though, was the makeup of that 2009 side. The players in the squad had cosmopolitan backgrounds: Russian (Andreas Beck), Polish (Sebastian Boenisch), Ghanaian (Jerome Boateng), Nigerian (Dennis Aogo, Chinedu Ede), American (Fabian Johnson), Spanish (Gonzalo Castro), Tunisian (Sami Khedira, Anis Ben-Hatira), Iranian (Ashkan Dejagah), Turkish (Mesut Ozil).
Not all of them made the transition to the German senior team, some even later chose to play for another country. But it was the most multicultural team that had ever represented Germany at football and so it was widely seen as also being representative of social change. Four players from this side also were key members of the German team at the 2010 World Cup in South Africa: Neuer, Boateng, Ozil, Khedira.
That means if Germany had gone all the way in South Africa and won the title there would have been some symbolism attached to the victory. People would have looked at the team and seen their success as the success of a thoroughly multicultural society. But now, five years later, that's not the main subject. We have come to take this factor for granted. It's old hat.
A similar thing can be said about the often-heard fact that Sunday's win is somehow particularly important because it's the first World Cup won by the reunified Germany. One, the country won a major trophy only six years after reunification, the European Championship in England.
Two, some other World Cups would have been much more crucial in this regard. In 2002, Germany's most important player came from the former East Germany, Michael Ballack. The same went for the best man in the final, Bernd Schneider. And there were also some other players, such as Thomas Linke or Jens Jeremies, who had been born on the other side of the wall when it still stood.
The fact that there once had been East and West Germany was also very much on the agenda in 2006. In fact, it's why the country had been awarded the World Cup in the first place. A central element of the German FA's bid was that Germany wanted to present itself to the world as a modern, new, friendly, peaceful country one and a half decades after reunification.
It certainly succeeded. Off the pitch, that is. Because again the team fell a bit short on the pitch. Now, eight (or even 12) years later, this East-and-West thing is no longer a meaningful subject. It's another factor that we have come to take for granted. So much so, in fact, that the vast majority of normal fans wouldn't even be able to tell you that Toni Kroos is the only member of the current team who comes from what used to be the East. He was born two months after the wall came down.
But of course all this doesn't mean that Sunday's win isn't highly symbolic. That appeared to be on Low's mind because a few moments after saying that nobody had deserved it more than Germany, he added: "It wouldn't have been possible only with the proverbial German virtues. We had to add the footballing elements."
This innocent little comment may not mean much to non-Germans, but everybody in this country who follows football closely knew exactly what Low meant. For him, and not only for him, winning the World Cup was not a symbolic win for a reunified country or a multicultural society. It was a symbolic win for football.
When Low said, "It was due," he was talking about the past eight years -- but surely thinking about the past 16. In August 1998, the German FA launched the first of two massive "Talent Promotion Programmes." Many people have forgotten that this original programme was devised by none other than Berti Vogts, the man who seemed to represent the past rather than the future.
Four years later came the more famous and more heralded "Extended Talent Promotion Programme." It was presented to the public in July 2002 and launched in September. When former Bundesliga goalkeeper Jorg Daniel, the director of the project, held his presentation speech, he said: "If the talent of a century happens to be born in a tiny village behind the mountains we will find him from now on."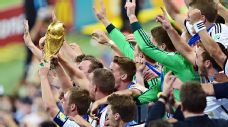 But talents alone don't win you a World Cup. You also have to mould them into a team and tell them how to play the game. And that's what Jurgen Klinsmann and Low did, starting in 2004. They gave the team a new identity and a new style. Over the ensuing years, people began to love this team like no German side since the Miracle of Berne heroes of 1954.
The team reached the height of their popularity between 2010 and 2012. But over the past two years, doubts grew. More than just a few pundits argued that Germany had learned how to entertain but forgotten how to win. The players were supposedly lacking willpower.
Low and his players have finally proved the critics wrong. And as his line about the footballing elements shows, the need to do so was very much on his mind during those weeks in Brazil.
Winning the World Cup was not primarily a victory for the reunified, multicultural, new Germany. It was a victory for and validation of a new German football.
Uli covers German football and has written over 300 columns for ESPN FC since 2002, several books and is contributing editor of Champions magazine.