Reasons to watch the third-place game
RIO DE JANEIRO -- Following the Netherlands' World Cup semifinal defeat to Argentina, Dutch forward Arjen Robben neatly summed up the feelings of many observers towards the third-place match (Saturday, 4 ET, ESPN and WatchESPN) when he said:
"I could not care less about that game right now. In my opinion, they should abolish it all together. The World Cup is about one thing only: the Cup."
Robben's sentiments are understandable. His dreams of World Cup glory had just been dashed, probably for good given that he's 30 years old. The fatigue that comes with playing six hugely intense games can be difficult to overcome. Further, for the team that loses the third-place match, there is the disappointment of finishing an otherwise successful tournament with two losses (yes, penalty shootout defeats officially count as ties, but you get the point).
Yet until the day comes when FIFA decides to scrap the match, the game will go on, and there are actually some perfectly good reasons to take in Saturday's encounter between the Netherlands and hosts Brazil.

Brazil
Netherlands
Game Details
1. Watch the healing begin ... maybe
For the Selecao, the scars from Tuesday's 7-1 thrashing at the hands of Germany will take decades to get over. But the healing process has to start somewhere, so why not begin with the third-place match? If nothing else, the chance to observe Brazil's mental state will be fascinating to watch. Will the team mail it in, or will they find a way to summon up the energy to give their maximum? One would expect that after Tuesday, the nation will demand the latter. Without question, Brazil finds itself in the position of having something to prove, a hugely odd state of affairs for a third-place game.
2. It's usually a good game
For a match that supposedly no one cares about, the third-place game has turned up some wildly entertaining fare over the years. You have to go back to 1974 to find the last time fewer than three goals were scored. Four years ago, Germany's 3-2 win over Uruguay featured three lead changes. In 2002, three early goals from Turkey paced it to a 3-2 defeat of hosts South Korea.
The matches have usually had an uncanny ability to influence the Golden Boot race, too. Four years ago, a goal for Germany's Thomas Muller meant he edged out Diego Forlan, Wesley Sneijder and David Villa on the basis of more assists. That seems unlikely to happen on this occasion, as only Robben and Robin van Persie -- with three goals each -- are even remotely close to catching Colombia's James Rodriguez.
3. Watch some reserves state their case ...
Netherlands manager Louis van Gaal is headed to Manchester United, while Brazil's Felipe Scolari is headed (possibly) for in-house detention. So neither will be looking towards the future, per se, with their respective lineup choices, but for those players hitherto subjected to bit-part status -- or worse -- Saturday's match represents the chance to have at least one World Cup start on their résumé. For Brazil, that means the likes of Willian, Henrique and Ramires may get the chance to shine, as will Dutch players such as Jordan Clasie, Leroy Fer and perennial Van Persie backup Klaas-Jan Huntelaar.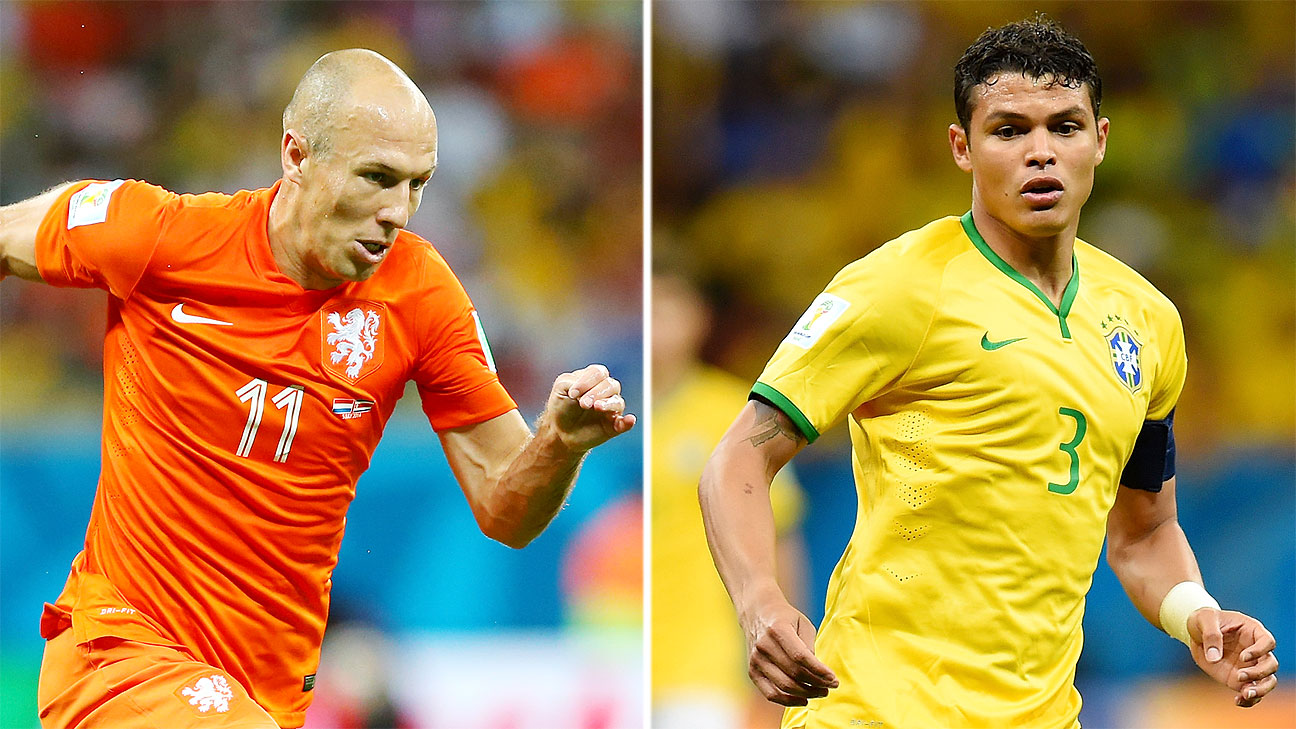 4. ... and pay homage to some greats
Brazil will contest the Copa America next summer, as well as the Copa America Centenario the following year. Assuming it qualifies, the Netherlands have Euro 2016 to look forward to. As such, it's difficult to say precisely when some ageing players might call time on their international careers. But in terms of the World Cup, Saturday's match is likely to be the curtain call for the Netherlands' fabulous trio of Robben, Van Persie and Sneijder. The same is true for Brazil captain Thiago Silva, as well as Maicon, Julio Cesar and Dani Alves. Enjoy the sight of them while you can.
5. Delay the inevitable
Pretty soon -- a few days, in fact -- you're going to be suffering from World Cup withdrawal. As it stands now, you're likely killing time until Sunday's final. You might as well get one of your last World Cup fixes until the tournament lands in Russia four years from now. And given the two sides involved, there figure to be plenty of talented players on display.
Jeff Carlisle covers MLS and the U.S. national team for ESPN FC. Follow him on Twitter @JeffreyCarlisle.