Roy Hodgson's England dream
It's the day of the 2014 World Cup final and, deep in the bowels of the Maracana, Roy Hodgson is preparing his England troops. Yes, you read that correctly. Iain Macintosh tells the story.
"Lads," says Roy Hodgson, smiling warmly. "Just before we go out there, I want to say a few words."
The noise in the dressing room, a chaotic kerfuffle of clattering studs and shouts, is immediately diminished. Those England players who haven't heard their manager call for attention, those busying themselves with styling products by the mirrors, are quickly nudged by those who have.
For here, in this sanctuary from the media melee, Hodgson's word is law. Here, he is adored and respected. England stand on the brink of their greatest success in almost half a century, and Hodgson is their leader.
"Thank you," he says. "I just wanted to say ... well ... just that, really. Thank you. You boys have been the wind beneath my wings. Here we are in the Maracana, with only Germany standing between us and immortality."
Hodgson chuckles to himself and scratches his head. "After we lost to Italy, no one gave us a chance, did they? Not the people back home, not the boys in the press box. No one. And they would have been right as well, had it not been for Steven and what he did against Uruguay."
"Well done, Stevie!" shouts Jordan Henderson, before blushing and hiding his face behind his hands.
"Yes, well done," Hodgson beams. "Sometimes, I wake up in the night wondering what would have happened if you hadn't tracked back and reached that long, late goal kick, rising like a salmon and effortlessly heading the ball to safety ... I'm certain Luis Suarez would have sneaked in behind you and scored a second goal if you hadn't. Instead, he pulled a muscle chasing a winner in injury time and then you scored with that late free kick."
"Just doing my job, gaffer," says Gerrard stoically. "I feel sorry for Luis, but at least he'll be rested and ready for the start of Liverpool's season. Not like last year when he missed the first six games because he'd bitten someone!"
Everyone laughs.
"That was the turning point," says Hodgson, returning to his theme. "Italy lost to Costa Rica the next day and then ground out a goalless draw with Uruguay, sans Suarez, in the final match. The door was open."
"And I kicked it in!" Daniel Sturridge shouts.
"Yes, you did," smiles Hodgson. "When Keylor Navas was sent off for bringing you down in the box, the game changed and everything fell into place. You, Daniel, scored the goals that boosted us right up to top spot!"
"And then Greece, gaffer," says Gerrard, shaking his head as if he wasn't angry, just very disappointed. Gary Cahill sucks air through his teeth, like a mechanic presented with a mistreated gearbox.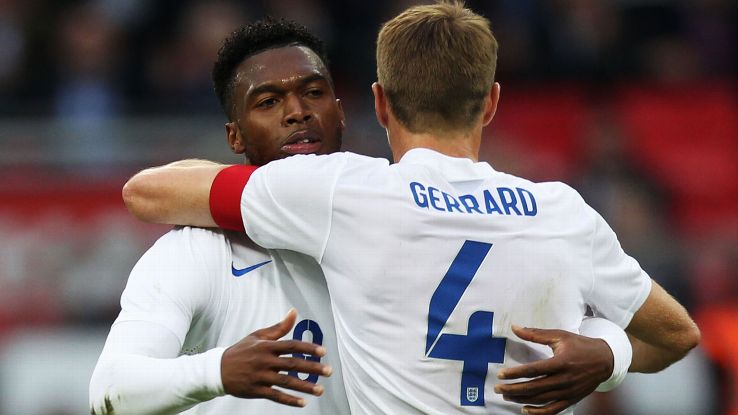 "Greece," nods Hodgson ruefully. "I tell you what. I'm not a perfect man, but if I ever sent out a team like Greece, a team built purely to defend and then pray that it won something on a set piece ..."
"What about England in 2012, gaffer?" asks Frank Lampard. "Shut up, Frank," Hodgson retorts briskly. "Yes, Greece was a tough night. But we got there, didn't we? Grinding our way through extra time and then snatching it at the death when Wayne Rooney bravely stole in at the far post to head home the winning goal."
"Poor Wayne," says Danny Welbeck. "Poor post," says Hodgson. "They'll never get that dent out."
"Apparently, Wayne still just shuffles around the house," chips in Gerrard.
"Yes," says Hodgson. "He was entirely unaffected by the accident, thank heavens."
"And what about the Dutch, gaffer?" says Joe Hart, bouncing up and down on the bench.
"Ah, I knew you'd want to talk about the Dutch, Joe!" Hodgson laughs. "What a night, eh? One hundred twenty minutes of nothing happening and then a penalty shootout against the only nation worse than us at penalties. Do you know, I think we're the first team to ever win a shootout 1-0."
"We wouldn't have won had it not been for Jack," says Gerrard, putting his arm around the Arsenal midfielder and ruffling his hair. "Gerroff!" giggles Wilshere.
"We were all so proud of you, Jack," says Hodgson solemnly. "You really came of age that night. You let Tim Krul stand in your face and say all those terrible things about you and then ... what did you do?"
"I waited for him to walk back to the line and kicked it past him before he turned around!" shrieks Wilshere in delight. "Yeah, you did!" laughs Hodgson. "Of course that wasn't strictly legal, and you had to take it again, but you had him rattled, Jack! You had him rattled and then you scored!"
"And then Argentina!" shouts Glen Johnson, with everyone by now completely overexcited.
"And then Argentina!" Hodgson shouts back. "And how did we beat them?" Everyone turns to Danny Welbeck and he raises his arm in the air to raucous laughter. "With the hand of Dat Guy!" Hodgson shouts. "Happy days! Oh, happy days."
Gerrard stands up and the room falls silent again. "Gaffer," he says. "I just want ... we just want you to know. We couldn't have done any of this without you."
"That's right, gaffer," chips in Hart. "You made this happen. You're the real hero."
Gerrard clears his throat. "Fooooooor, he's a jolly good fellow!" Hart and Welbeck join in. "For he's a jolly good fellow!"
And then, all around the dressing room, everyone sings -- the players and the coaches, louder and louder, clapping their hands in unison. "For he's a jolly good feeeeeellow! AND SO SAY ALL OF US!"
"Cup of tea for you, darling," says a woman's voice, softly.
"What?" Hodgson mumbles.
"AND SO SAY ALL OF US!"
"Cup of tea, Roy, love."
"And so say all of us."
"No!" He thrashes about as the dressing room melts away. The faces. The voices. The love. All fading to black. "No! Let me stay! LET ME STAY!"
"Roy, darling. It's OK. It's OK." A warm hand strokes his clammy face. "Please," he whispers, eyes squeezed tightly shut. "Let me stay."
"It's okay, Roy. It's just a dream. It's just a dream."
Reluctantly, Hodgson slowly opens his eyes. His bedroom. His bookcase. His wife. His tea, steam rising gently in the gloom as the sunlight pushes its way through his curtains.
"But ..." he says.
"But what, my love?"
"... it all seemed so real."