Final push for Netherlands, Argentina
SAO PAULO -- You want to be world champion? You need to be good. And you need to be lucky. Or so good that you can overcome misfortune. Or so lucky that you can get away with being less than perfect.
Argentina and the Netherlands square off on Wednesday in Sao Paulo. Neither has proved to be the best team in the world through the first five games. Both have had to ride happenstance -- whether sheer dumb luck or moments of individual brilliance -- to get to within 90 minutes of the biggest game in the universe.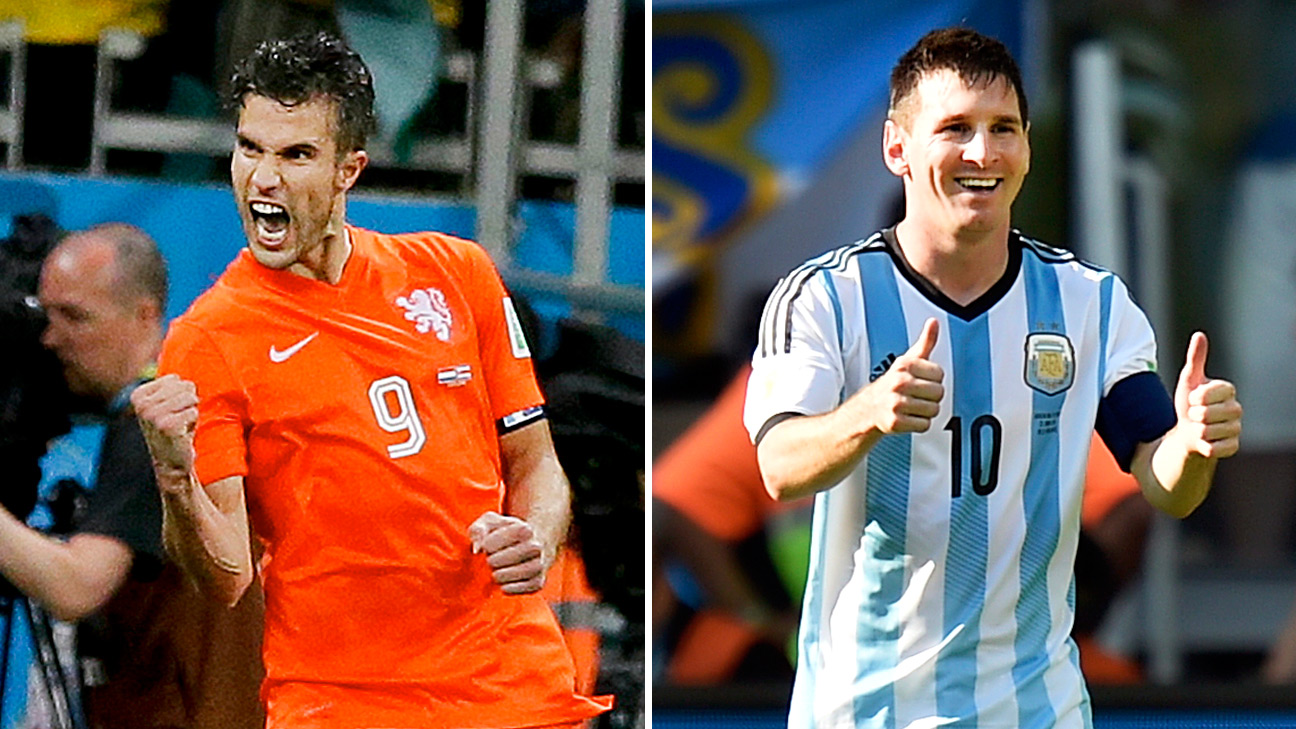 It's five wins out of five for Argentina, but you have to scratch the surface. Belgium were only beaten 1-0. Switzerland took them to extra time. They let Nigeria come from behind ... twice. The only goal against Iran came in injury time. And the opener in the 2-1 victory over Bosnia-Herzegovina came courtesy of an own goal. They've scored eight times. Take Lionel Messi and the own goal out of the mix and it's only three.
You can play the same game with the Dutch. They also won five. Sort of. Costa Rica took them all the way to penalties. They needed to come from behind -- and earned a controversial penalty -- to get the better of Mexico, with two goals after the 87th minute. They did beat Chile 2-0, but that was without Arturo Vidal. They fell behind against Australia before squeezing out a 3-2 win. And while the 5-1 demolition of Spain looks flashy, they did go a goal down, while at least two of their strikes can be chalked up to moments of madness by Spanish keeper Iker Casillas.
They have scored 12 goals, an impressive total, but -- again -- take away Arjen Robben and they would have been on the couch with the remote a long time ago.
Yet despite all this, they can still win it all. And if they do it convincingly and emphatically, nobody will be able to argue that they aren't worthy champions.
The problem for both is that, while fortune may have smiled on them in some ways, it has been rather less kind in others. Argentina coach Alejandro Sabella lost Sergio Aguero, Messi's foil, and then Angel Di Maria, his best player-not-named-Lionel. His centre-forward, Gonzalo Higuain, came into the tournament carrying an injury and has been playing through pain, only really finding his level in the quarterfinal against Belgium.
His counterpart, Louis van Gaal, lost Nigel de Jong, his defensive bedrock in midfield, while Robin van Persie, his joint top scorer, and Ron Vlaar, his most experienced defender, are doubtful for Wednesday's semifinal.
This is where they earn their bacon. This is where Sabella and Van Gaal become big brother, savant, alchemist and doctor rolled into one. Just as they've done throughout the tournament.
Argentina have tinkered defensively, starting with a three-man defence, then adopting a back four with Ezequiel Garay and Fede Fernandez, and then the setup seen against Belgium, with Martin Demichelis replacing Fernandez. From Fernando Gago, initially benched, then recalled as some kind of saviour -- supposedly the only man with the passing skills to keep Messi & Co. supplied up front -- to Lucas Biglia, who is more linear and less creative than Gago.
Sabella will have to decide whether Aguero is ready to start -- there's no point asking him, since players always say they're ready -- or whether that will simply amount to wasting a substitution if he's forced to bow out early. And he'll have to replace Di Maria, who is, largely, irreplaceable. Look for a more blue-collar midfield with the addition of Enzo Perez and either Aguero or Ezequiel Lavezzi joining Messi and Higuain up front. It's a sequence of educated guesses, not just from yours truly, but from Sabella, too.
Van Gaal, similarly, has had to scratch the bottom of his deep well of knowledge to eke out results and deal with emergencies. He too went with five at the back early to help paper over a nucleus of defenders who were either inexperienced or clunky or both, only to use multiple formations in a single game on various occasions, reacting to the flow and to performances.
Vlaar would be a huge loss, one that might even force him to play either Joel Veltman or Terence Kongolo at the back -- two guys who, between them, have a total of three caps. Dirk Kuyt, once upon a time a centre-forward, has been reinvented as a full-back -- left or right, no matter at all to him -- and he at least plugs one hole. Daley Blind -- whose intelligence and technique are unquestionable but whose movement around the pitch is about as sprightly as that of a washing machine -- may find himself either wide left or filling De Jong's spot in midfield, assuming De Jong isn't rushed back (and frankly, it would be a minor miracle if he was).
Wesley Sneijder's contribution has been about as continuous as one of those flashing neon signs outside your favourite dive bar. The good news is that he's served his purpose, coming up big when it matters (a bit like the neon sign outside the bar, showing you the way to the booze when you get thirsty). The bad news is that, to accommodate him, you need guys who can run around him, which places a massive onus on Georginio Wijnaldum, another lunch-pail hero. Van Persie, ghost-like in his last two outings, is suffering from a stomach bug and doubtful, too. The good news is that he plays the one position in which Van Gaal does have legitimate cover in Klaas-Jan Huntelaar.
Most, if not all, of the above becomes moot if Robben and Messi live up to their billing and carry their teammates on their narrow shoulders. They've done it before in this tournament, but both managers know it's not something they can count on. Nor do they want to push their luck.
The fact is that both of these teams reach the semis bent, broken and beaten down, forced to use their resident superstar and their managers' tactical nous as a crutch with which to hobble into the final four.
That's what happens in World Cups. Only foolish managers draw up their blueprint in indelible ink. They know they need wipe-erase boards, because injury, loss of form and -- crucially -- the loss of a lucky charm can strike at any time.
Gabriele Marcotti is a senior writer for ESPN FC. Follow him on Twitter @Marcotti.