Strikers making way for playmakers
Time is running out for Miroslav Klose. It's precious and of the essence to him. At 36, the Germany striker is playing in his final World Cup. Every game has threatened to be his last since the knockout stage began. Tuesday's semifinal match against Brazil in Belo Horizonte is no different.
Klose is hoping to have a place in the starting XI for his fourth consecutive World Cup semifinal. So far in this World Cup, he's made cameo appearances as a substitute and one start, playing only 135 minutes overall.
Klose's aim upon making the squad was to score two goals in Brazil. The veteran Lazio forward has managed only one, sliding in at the far post to equalise against Ghana in the group stage. That strike meant Klose matched Ronaldo on 15 goals as the all-time leading scorer in World Cup history. Imagine if Klose were to break the record against Brazil. Wouldn't that be something?
If the moment comes, he will have to seize it. And besides, Klose should perhaps consider himself lucky to be in the Germany squad at all. He is the only nominal centre-forward Low decided to take. Germany's talent distribution, after all, is disproportionately in or between the lines of midfield and attack. Still, the prevailing sensation from this World Cup is that it has been hard on the orthodox striker in general.
That might sound foolish considering 2.8 goals per game were scored during the group stages. Were centre-forwards not among them? Didn't they take advantage? Not as much as you'd think. Of the players classified as more or less typical No. 9s, only Karim Benzema (even though he wears No. 10), Robin van Persie (a self-proclaimed 9 and a half), Wilfried Bony, Mario Mandzukic, Jackson Martinez, Clint Dempsey, Asamoah Gyan, Islam Slimani and Enner Valencia scored two or more goals.
It's perhaps a surprise considering that some countries came into the World Cup with frightening firepower. Argentina looked top-heavy, as did Colombia in spite of Radamel Falcao's injury-enforced absence, while Uruguay's strike partnership of Edinson Cavani and Luis Suarez is about to become the most expensive in aggregated transfer fees (although they played together for only 178 minutes on account of Suarez's recovery from knee surgery and then his bite on Giorgio Chiellini).
For several reasons varying from poor form to issues of fitness and not being in the side, few have imposed themselves on the tournament. Argentina's Gonzalo Higuain, for instance, only got on the score sheet in the quarterfinals against Belgium. Many are asking whether he could follow in the footsteps of Italy's Paolo Rossi in 1982. The World Cup winner didn't find the back of the net until his fifth appearance in Spain and then couldn't stop in a blaze of glory. Argentines are sure hoping Higuain imitates Rossi. Argentina's latent potential up front, how they've kept their powder dry (or at least put it in the hands of one man), could yet spark.
Brazil, meanwhile, have little or no gunpowder to speak of. Losing Neymar (another player wearing the symbolic No. 10 shirt on his shoulders, and a wide forward, too, rather than one through the centre) has laid bare how, unlike in years gone by, Brazil no longer have a multitude of world-class, go-to goal scorers. Fred, the leading striker at last summer's Confederations Cup, has become a figure of fun, even if it must be recognised that he is or has been a facilitator for Neymar as much as a finisher for Brazil -- not quite Serginho in 1982, but hardly Stephane Guivarc'h in 1998 either. Then there's Jo.
There must be regret that more wasn't done to get Diego Costa to commit to Brazil. His forward play would have been more suited to Brazil's style than to Spain's. He chose Spain -- possibly because he wasn't fully fit. And to be fair, the only European striker who has appeared to meet, if not exceed, expectation at the World Cup is Benzema. The other, more prolific players from the Continent are the unclassifiable Muller, his Bayern teammates (Switzerland's Xherdan Shaqiri and Netherlands winger Arjen Robben) and Robin van Persie.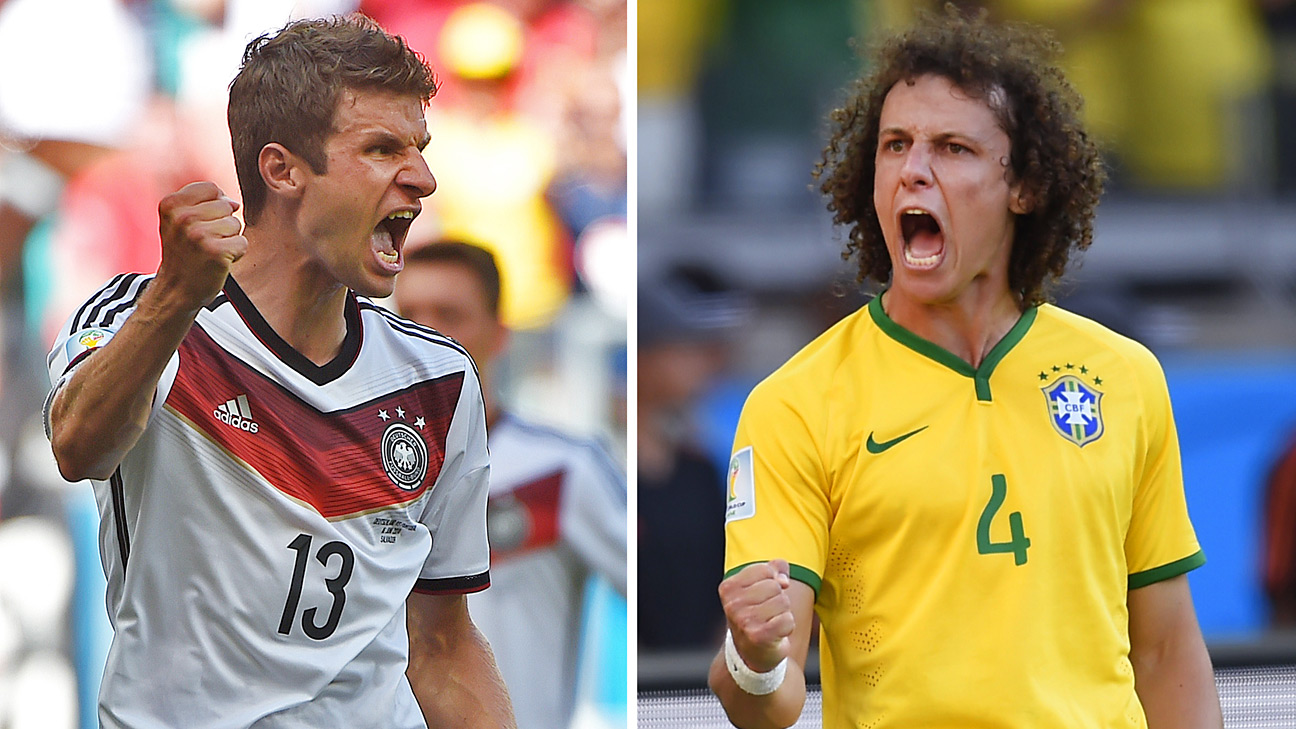 There are no foxes in the box, no bulls at the gate. The scoring charts reflect that. As in 1974 and 2010, when Grzegorz Lato -- a wide player -- and Muller won it, the Golden Boot is likely to go to a non-centre-forward. Colombia's No. 10, James Rodriguez, is still in pole position on six goals. He is pursued by Argentina's Lionel Messi -- one of the greatest goal scorers of all time but not a No. 9. Level with him on four goals, though unable to add to it, is Brazil's Neymar. Then, of course, there's right-place, right-time Muller.
What's clear is that there is no Eusebio, Gerd Muller, Mario Kempes, Paolo Rossi, Gary Lineker, Salvatore Schillaci, Hristo Stoichkov, Oleg Salenko, Davor Suker or Ronaldo to speak of. This World Cup has arguably been crying out for one in the knockout stages: six of the eight round-of-16 games were 0-0 at halftime. This has been a World Cup of the No. 1s and No. 10s, not the No. 9s.
That's a consequence of modern football -- the prevalence of one-striker and striker-less systems, the preoccupation with not giving your opponent any reference points, and the widening brief of the centre-forward to participate and link up play, to move and drag opponents out of the way to create space for his teammates. Scoring goals used to be his only job. Now a striker is asked to do much more. It brings nostalgia for a Gerd Muller, a Pippo Inzaghi. "He loved goals," Alessandro Del Piero once said of his former Juventus and Italy teammate, "but not as much as the goal loved him."
The same is true of Klose. So if you're a neutral fan, will him to score Tuesday night. Do it for your team. Do it for yourself. Do it for the record. But above all, do it for the good old No. 9.
James covers the Italian Serie A and European football for ESPN FC Follow him on Twitter @JamesHorncastle.