Scolari lightens mood for Selecao
BELO HORIZONTE, Brazil -- In the English edition of the World Cup dictionary, the word "talisman" refers to those who function as both the key to their team and the planet-facing logo of their homeland. Think Leo Messi and Argentina. Or Arjen Robben and the Netherlands. Or -- until recent events, obviously -- Neymar and Brazil. ("Watch Brazilian team hug wheelchair-bound talisman Neymar," a headline on The Telegraph's website read this weekend.)
But since that shootout with Chile roughly two rounds and a million years ago -- just one in a sequence of futebol-related torments for the Seleção -- the most appropriate avatar for the host nation has not even worn a jersey, No. 10 or otherwise. Heading into Tuesday's semifinal against Germany, Brazil's international symbol had mostly been their psychotherapist, Regina Brandão, who was summoned back into service by manager Luiz Felipe Scolari after the team's tearful, near-death experience against La Roja.
"The team is crying when they're singing the anthem, when they get hurt, when they shoot penalties," Carlos Alberto Torres, who captained Brazil's 1970 championship side, said on Sport TV. "Come on. Stop crying. Enough."

Brazil
Germany
Game Details
Brazil, as you may be aware, is famed for its anti-Victorian embrace of feelings, a certain elasticity of the upper lip. (See the concept of the homem cordial posited by anthropologist Sergio Buarque de Holanda; see, also, the jovial chest taps that keep blindsiding me after handshakes.) But given the win-or-die stakes unique to a favorite playing at home -- "If we lose, then we all go to hell," the president of the Brazilian Football Federation, José Maria Marin, actually said this spring -- the country's run through the knockout rounds has been generally traumatic for everyone involved.
So it was, before those penalties with Chile even began, that Neymar, David Luiz and Thiago Silva, the captain, had already started weeping. Silva, who'd walked away and sat on a soccer ball by himself, later admitted that he was so nervous that he'd asked Scolari not to assign him one of the first kicks. Meanwhile, in celebration, goalkeeper Julio Cesar joined in the squad-wide cry and bawled during his televised, postgame interview. "There are players who get emotional and forget the game," proclaimed Zico, the retired Seleção legend. "They need to have more control."
Brandão is a longtime adviser to Scolari, professor at São Paulo's Universidade São Judas Tadeu, and the current president of the Brazilian Society of Sport Psychology. She showed up to help as the criticism mounted, and swiftly became an object of fascination for the press. "I had never done anything like it before and I am quite enjoying it," Neymar said of her counseling last week. "I am learning a lot and I hope to continuing doing it."
Subsequently, against Colombia in the quarterfinals, Brazil managed to keep itself together throughout a 2-1 slugfest -- even after watching a pained Neymar get carted off, screaming, in the 88th minute. But that night, once the superstar was ruled out for the tournament with a fractured vertebra, the hospital vigils began, and Brandão returned again. She had typically been checking in on the players via phone, often using the messaging program WhatsApp, and email. This was another emergency, in-person session. "We talked with Regina about Neymar and about staying cool," Silva said during the team's news conference Monday. "Regina said to everyone to be relaxed because Neymar already did his part and the other 22 players must do theirs."
During the team's first presser after Neymar's injury, memorably, literally every question asked had related to his absence. On Monday night, with less than 24 hours before the semifinal here, the focus had at least shifted. Now that was true of only half of the questions posed by the international press.
But an even more noticeable change occurred within the man at the helm. Sitting to the left of Silva, whom Scolari had given another chance to address the world, tear-free, the manager proceeded to go out of his way to crack jokes, chortle and be almost suspiciously buoyant.
When a reporter asked about Scolari's oft-sullen body language by the bench, he smiled and quipped, "You're looking at me too much, eh?" When journalist after journalist had declined to directly question Silva -- who'll be sidelined for the semifinal against Germany thanks to a yellow card picked up against Colombia, his second of the tournament -- the manager slapped his captain on the back and began discussing how the defender was "a good assistant," a future coach-in-waiting. When someone mentioned their helicopter ride here from Teresopolis, Scolari leaned back, pointed at the team's media officer, Victor Rios, and kept making fun of how comically nervous that guy had been.
It was, in short, a master class in not merely deflection and image control but positive psychology. Brazil's last presser -- their past two weeks running, really -- had felt like a waking nightmare, even a wake. Now, with a possible trip to hell waiting for them, the manager took the mike on behalf of his nervous players, who remained out of sight, back at camp, and instead gave the room the improbable flavor of a roast.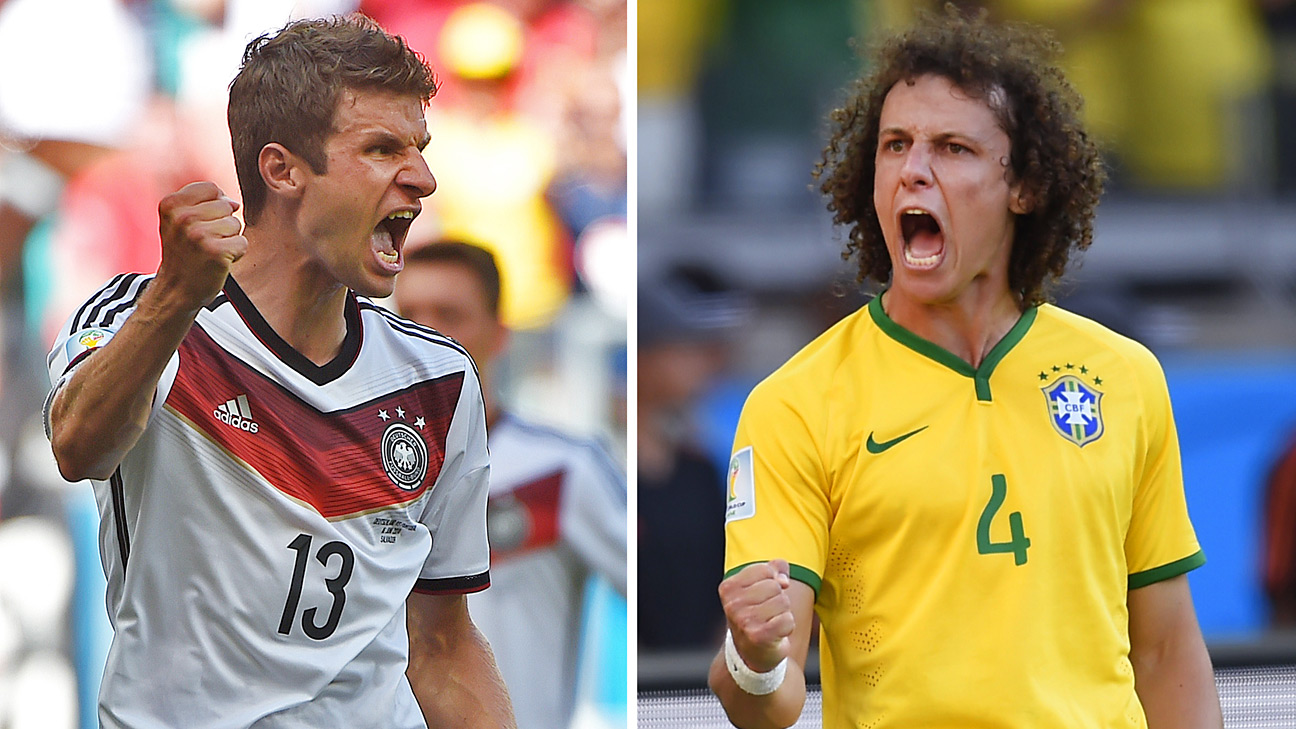 At one point, however, Scolari did grow serious. Someone had asked how he felt setting up his first lineup without Neymar in 27 matches with the Seleção. In reply, the manager went so far as to explicitly address the abundant worries of the republic -- the very anxieties mirrored in his overwhelmed team, requiring him to call in Brandão in the first place.
"I know the starting lineup, and you'll see why those choices are made," he said. "The easiest thing for me to do is put my head down and sleep. And once again, I'll tell the Brazilian people" -- and here he began to enunciate, in Portuguese -- "we're doing what we think we must do. And we're doing our best."
Not too long after that, time was called. The news conference was over. Further preparation for Germany awaited; further counseling for Brazil with Brandão, too, but only privately.
Scolari got up, grinned, held both hands in the air and said "Thank you" to the legion of cameras and critics, in perfect English. The performance, beamed across the planet, felt talismanic, if willfully so.
For now, there was nothing but dry eyes in the house.
A senior writer for ESPN The Magazine and ESPN.com based in New York. You can watch him every week on TV shows such as Around the Horn, The Sports Reporters and Olbermann. Follow him on Instagram (@pstorre) and Twitter (@PabloTorre).